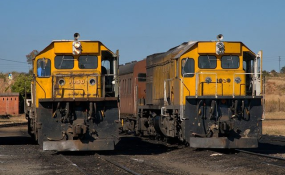 Photo: The Herald
The Grain Millers Association of Zimbabwe (GMAZ) has procured 200 railway wagons and two locomotives for transporting grain to various parts of the country amid signs of an impending drought.
Zimbabwe is experiencing a dry spell with indications pointing to another possible drought.
If that eventuality happens it would then mean that the country will have to import grain to feed the citizens.
Speaking to NewZimbabwe.com in Harare on the side lines of a $145 000-00 food donation to the Zimbabwe Defence Forces by his organization on Tuesday, GMAZ chairperson, Tafadzwa Musarara, said they had procured railway wagons to carry grains from Mozambique.
"The milling industry has procured more than 200 railway wagons and two locomotives of our own and what we are waiting for is the regularization of this fleet by government and put it on the main railway system," said Musarara.
"This will augment and compliment what the National Railways of Zimbabwe (NRZ) has so that we are able to move food consignments from Beira and Maputo into Zimbabwe via Mutare or Machipanda," Musarara said.
The NRZ has a fleet of 166 aged locomotives, and only 60 of these are functional.
The struggling parastatal is, however, struggling to renew its fleet due to bankruptcy.
NZR owes its workers $90 million in unpaid wages.