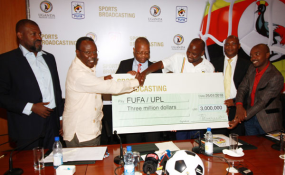 Photo: John Batanudde/Daily Monitor
By Andrew Mwanguhya
Kampala — Fufa took a bold step into unchartered territory to hand rights to air three major football competitions in the country to a company that will have to learn on the job.
Azam Television remain the sole broadcast sponsors of the Uganda Premier League (UPL) until their $1.9m (Shs5.4b at the time of singing three and a half years ago) runs out on May 31; just in time for Sports Broadcasting to take over for the next four years. Sports Broadcasting's deal, as disclosed at a ceremony also attended by State Minister for Tourism Godfrey Kiwanda at the Kampala Serena yesterday, is worth $3m (Shs10b).
The deal will go a notch higher to include the UPL, Fufa Big League and Uganda Cup. The 16 UPL clubs will take the largest share of $600,000 (Shs2.1b) per season.
The Fufa Big League and Uganda Cup will be accorded $80,000 (Shs290m) and $70,000 (Shs255m) respectively.
That would mean that each of the topflight teams would now receive twice as much as they are currently getting in the Azam deal per season. Each club is currently entitled to Shs56m per season.
Baby steps
Sports Broadcasting is the fourth television entity to acquire rights to broadcast the local league in the past 11 years after UK's GTV, South Africa's SuperSport, and Tanzania's Azam.
However, this latest one is also the first Ugandan company to measure up to the occasion, and also - suffice to say - a neophyte in the business that will be judged by the benefit of time.
Dennis Mbidde, a man that has been involved in negotiations of just about every past TV deal in the country, returns in this flick as the Managing Director of Sports Broadcasting, a company that has advertising giants Prime Media as the majority shareholders.
"We are solid and we have some of the most competent partners and sponsors coming on board," said Mbidde, "And we are here for a long haul." Fufa president Moses Magogo said "we are witnessing a new dawn and the beginning of an avalanche of sponsors to football.
"I'm glad that now pieces are finally being put in place to get together our real football product, our real sports product."
How will it work?
League board chairman Arinaitwe Rugyendo believes the new deal "goes to show that Ugandan football is on a growth trajectory. I attribute this to harmony, stability and integrity in the local game."
In its current state, you could say Sports Broadcasting is a production company, which intends to partner with one of the stations for one channel fully dedicated to local sports content. This channel will among others relay all 240 UPL games - both live and delayed. StarTimes is said to be that station.
Daily Monitor also understands that Sports Broadcasting is looking to purchasing an OB van, as well as bringing on board at least three major sponsors to inject money in production through which they will sell rights to make more money.
Fufa and the clubs co-own rights to broadcast the league, and for the rights to be sold to a third party, both must agree.
Some clubs like SC Villa and Proline have expressed reservations about how the deal was reached. However, the UPL board, which represents the clubs, assented to the deal with Fufa.
SPORTS BROADCASTING BREAKDOWN
The deal: $3m (Shs10b) over four years
UPL: $600,000 (Shs2.1b) per season
Big League: $80,000 (Shs290m)
per season
Uganda Cup: $70,000 (Shs255m)
per season
ABOUT SPORTS BROADCASTING
Who is Sports Broadcasting Limited?
A Ugandan company with advertising giants Prime Media as the majority shareholders. Managing Director Dennis Mbidde and Chairman Brutus Kagingo are the other shareholders
TV deals over the years
2018: Four-year deal between Fufa, UPL/FSL & Sports Broadcasting worth $3m (Shs10b)
2015: Three-and-a half-year deal between Fufa, FSL& Azam worth ($1.9m, Shs5.4b at the time)
2011: Five-year deal between USL & SuperSport worth $5 (Shs13b at the time)
2007: Five-year-deal between Fufa & GTV worth $5m (Shs8.5b at the time)
WHAT THE CLUBS SAY ABOUT THE NEW TV DEAL
SC Villa president Ben Misagga
As SC Villa we were not involved in any discussions and were only invited to attend the unveiling. The deal is strange because previously we have been consulted like in the Azam and ForteBet deals even when we thought the money was not sufficient. But if the money is meant for us how come we were not informed.
Proline director Mujib Kasule
These rights belong to the clubs and if you are going to do anything you are supposed to consult the clubs. The board is supposed to come to the clubs and inform us. As Proline we just got an invitation to attend the unveiling. As Proline we are not going to fight the deal because we are powerless but that does not make it right. There are about one thousand questions about the deal and if it was brought to the public 90% would question it. So they decided to do it that way.
Kirinya-Jinja boss Diana Nyago
I am just hearing about it for the first time but as club chairpersons we have not been informed. We last had a meeting at the start of the season. I suppose they will tell us what the deal is about because you just can't give money to club without informing them.
Vipers official Harunah Kyobe
At the moment we cannot know whether the deal will benefit clubs or not because we were not furnished with details. But from what I see there seems to be little difference. we need to know for example where the games will be shown if on free to air or foreign channels.
COMPILED BY ELVIS SENONO