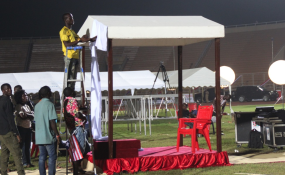 Photo: FrontPageAfrica
By Toweh Alphonso
Other things reportedly went well as planned for Monday, January 22 inauguration of President George Weah, but the protocol aspect is said to be the worst ever endured during such national functions.
Former Information Minister, Dr. Lawrence K. Bropleh who was part of the occasion expressed disdain at the way the protocol for the occasion was handled by the office of the Chief of Protocol.
According to Dr. Bropleh, the protocol was very sad, as guests were being pushed here and there, even finding seats for guests was also part of the spoil.
Appearing on a local radio talk-show Wednesday, the x-information minister also touched on every aspect of president weah's inaugural address.
Ushering in of guests and connections with protocol people stationed at the RIA to receive guests on arrival was not properly coordinated, he reflected.
Dozens of international guests including current and former Presidents from Africa, Asia and Europe formed part of the inauguration of President Weah and Vice President Jewel Howard Taylor.
He suggested there was a need to work on such gaps to avoid a repeat in subsequent national functions, and to save the state from future disrepute.
Equally so, Dr. Bropleh who runs the "Changing Mind, Changing Attitude Program" took swipe at the Chief of Protocol proper for not being on top of names of guests during the program.
According to him, the chief protocol got lost completely, as he was not acquainted with the names of guests attending the program saying "sometimes the guests took seats before they were noticed and announced."
Meanwhile, during the inaugural ceremony, some dignitaries of other foreign nations where seem sitting under the hot sun, while some were told to leave the podium because that was not where they were to be.
Some presidents and celebrants took their seats before they were recognized by the chief protocol, rather than announcing them before taking of seat. It is said that was not a welcoming sign for the country and the nature of the occasion.
It was observed the Chief Justice and Associate Justices were almost taking their seats unnoticed, and someone had to signal the protocol before he quickly announced their presence.
Also, the former official of government who lost his job in 2007 on corruption allegation, wants government carry out full-scale investigation into the conduct, the character of individuals under consideration for appointment, mainly public officials accused of corruption, before their names are made public.
Dr. Bropleh indicated such exercise was necessary because the character of a person is key.
On Weah's pledge to fight or end corruption in Liberia, he conceded that was possible because the institutions had already been set up.
"What is needed of him (Weah) now is the political will to fight corruption; he should be thankful to former President Sirleaf and Vice President Boakai because they laid the foundation on which he can now build," Dr. Bropleh observed.
"When a person is accused, a proper investigation should be conducted to establish the truth of the allegation; if found guilty, said individual should face prosecution without non-interference."
"The Prosecution aspect in the fight against corruption related issues are key. When you say you will fight corruption it creates another picture, because remember former president Ellen Johnson Sirleaf said corruption was going to be her public enemy number one but she failed."
"That is because no nation, not even the great United States of America can get rid of corruption, but rather it can only be reduced even-though I'm not trying to find escape root for corruption."
Bropleh faced the law in the early part of former President Sirleaf's administration for corruption following reports that he used fake names on government payroll to scoop money. He was acquitted after a lengthy but controversial legal process.
"The law is not based on sentiment, so people should be given proper due processes when linked to such issue," he said.
"Have proactive justice minister who is willing to prosecute when people are call to prosecution law is not about sentiment."
Dr. Bropleh said the Weah-Howard administration cannot succeed unless people of Liberia see the need to have a sense of belonging, stressing "the story to the people as it is."