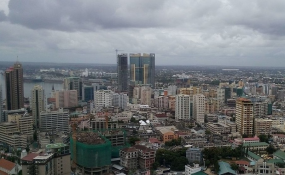 Photo: Ali Damji/Wikipedia
By Sunday News Reporter
THE World Economic Forum (WEF) has listed Tanzania top in inclusive economy among African countries in 2018.
Inclusive growth is economic growth that creates opportunity for all segments of the population and distributes the dividends of increased prosperity, both in monetary and non-monetary terms, fairly across society. According to a report released by WEF through its project the 'Inclusive Development Index (IDI)', Tanzania has been ranked top in inclusive economy in Africa due to strong implementation of various economic policies, which enabled 'wananchi' to participate fully in economic activities.
The Inclusive Development Index (IDI) is an annual assessment of 103 countries' economic performance that measures how countries perform on eleven dimensions of economic progress, in addition to GDP. It has three pillars; growth and development; inclusion and; intergenerational equity sustainable stewardship of natural and financial resources.
The IDI is a project of the World Economic Forum's System Initiative on the Future of Economic Progress, which aims to inform and enable sustained and inclusive economic progress through deepened public-private cooperation, thought leadership and analysis, strategic dialogue and concrete cooperation, including accelerating social impact through corporate action.
Other countries in the list of 10 best in Africa with their ranking position in brackets worldwide include Ghana, which emerged (52), Cameroon (53) and Burundi (55). Others in the list include Namibia (56), Rwanda (57), Uganda (59), Mali (60), Senegal (61) and Nigeria (63).The WEF has also ranked Tanzania the 48th country in Emerging Economies in the World.
The statistics on Tanzania's performance reflects President John Magufuli's plans to ensure the country owns its economy. In different platforms, the Head of State has been encouraging and insisting on the establishment of industries and engaging in various economic activities. So far, various Tanzanians have managed to establish both small and big industries, which is in line with the government's economic policy to build up an industrial driven economy.
Prof Honest Ngowi of Mzumbe University's School of Business said the WEF statistics indicate that Tanzanian economy is in the right path to be owned by majority Tanzanians, which will help to minimise the gap between the haves and the have nots. The renowned economist said inclusive economy enables many people to participate in their own economy and in various activities, which is healthy for the country's development. According to Prof Ngowi, some countries have strong and good economies, but it belongs to few people and thus creates a big gap between the rich and the poor.
University of Dodoma (UDOM) lecturer, Dr Paul Loisulie, said Tanzania has good economic policies and that for a long time; poor implementation has been an obstacle and a barrier to success. He said Dr Magufuli has been leading in the proper implementation of economic policies and that the results are now being recognised at international levels. However, the don said the success should be considered a challenge for speeding up economic activities and maintaining the position.
"This should be a challenge to us; we must find out what has been missing and make sure we maintain this position and ensure every Tanzanian participates in economic growth activities," he said.
Various international organisations recently have been releasing reports that give kudos to Tanzanian economic growth. Some of these organisations include the International Monetary Fund (IMF), World Bank (WB) and Goldman Sachs of United States of America (USA).
The organisations predicted that while the world's economy is expected to grow at an average of 3.0 to 4.0 per cent, the Tanzanian economy is predicted to grow at the rate of between 6.5 and 7.0 per cent in 2018. Also, Tanzania economy is listed among the best five growing economies in Africa.