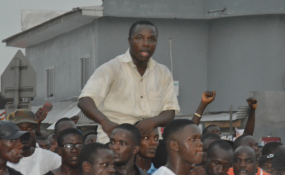 Photo: Liberian Observer
By Toweh Alphonso
Veteran economist Prof. Wilson Tarpeh, firebrand Coalition for Democratic Change Youth Wing Chair, Jefferson Koijee, Prof. D. Ansu Sonii, Samora Wolokolie, Jamama Wolokollie, Mamansie Kabah, all hardcore CDCians make the list of new faces in President George Weah's latest appointments, as he continues to form his government.
Koijee is to serve as City Major, Prof. Tarpeh as Commerce Minister, and Prof. Sonii as Education Minister, while Eugene Nagbe reappointed as Information Minister.
Williametta Piso-Tar, US-based Liberian, Parleh Harris of the Liberty Party go as Minister and Deputy Minister at the Ministry of Gender, Children and Social Protection. Dr. Francis Nak Kateh retains his position as Deputy Health Minister/Chief Medical Officer of Liberia, while former Lofa County Representative Moses Kollie goes to the Labor Ministry as Minister.
The latest weekend appointments also include Lemuel Reeves as head of the Liberia Immigration Service.
Mr. Francis F. Wreh goes as director of LIGIS, replacing the long-serving Edward Liberty.
Zogar Wilson, former Mighty Barrolle goalie is named Sports Minister, Cecelia Cuffy Brown as Deputy Managing Director, National Port Authority, while Tetee Gebro, Estelle Liberty-Karmon, Legerhood Rennie go to the Liberia Broadcasting System as deputy for Broadcasting, Deputy for Administration and Director General. Rennie served in the capacity under former president Ellen Johnson Sirleaf. See full appointments on page... ... .