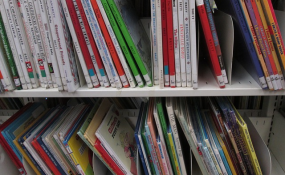 Photo: Pixabay
By Funmi Ogundare
Tackling dyslexia, a specific learning difficulty in children comes with concerted effort as Dyslexic Nigeria is currently training teachers, screening and assessing children that are dyslexic, to enable them develop their full potentials.
Master Leonard Chukwu, 13 (not real name) has been dyslexic for the better part of his life. As a growing child, he was smart, well-spoken and knowledgeable, but he never knew how to spell or read and write.
It was a big struggle for him passing through school and not being able to do what other children seem to do with ease. During a spelling class in primary school, he would get flogged severally for failing to spell correctly most of the words posed to him by his teacher, and classmates would jeer at him on countless occasions.
In Nigeria, most people don't know of dyslexia. Most times when a child is struggling academically or is having any learning difficulty, parents, teachers and caregivers most times assume that the child is just being lazy or plain dumb. They usually suggest extra tutoring as the solution to the problem.
According to studies, 60 per cent of students that have completed grade four and 44 per cent of students that have completed grade six cannot read a complete sentence in English Language or their mother tongue, while 84 per cent of children from the poorest households cannot read at all.
With this frightening discovery, the Director of Dyslexia Nigeria, Mrs. Adrienne Tikolo told journalists at the opening of the centre in Lagos that parents usually think that the school is not good enough and teachers don't know what to do with the children, adding that in finding help for children with dyslexia, she had to get the required training to be able to remediate it effectively.
She said the centre has been training teachers so that they can remediate the difficulties of children under their care. "Dyslexia affects 20 per cent of every population. If you have about 180 million Nigerians, there are about 36 million dyslexics in Nigeria and quite a high number of that will be children. I taught it wise to train teachers to recognise dyslexia and they might be able to remediate dyslexia in schools where they will have the opportunity to make the difference.
"The difference is usually made between the ages of 0 and 8. If you look at the percentage in schools of little children, you will say that about five per cent of little children have dyslexia. Some people say in every class, you will find about three to four dyslexics in the classroom. Every teacher will come across such children."
She described dyslexia as a special learning disability that affects the skills for reading and that it affects about 20 per cent of the population. "Dyslexia is with you for life, you can only manage it but you cannot run away from it once you are dyslexic. It is either you are dyslexic or you are not."
Tikolo, who disclosed that she has been running an elementary school for about 30 years, said she had come across several children with difficulties in reading and it had been challenging trying to get help for them.
The director said her facility could train about 30 teachers and would also be embarking on an in-service training of teachers in their schools.
"As you can see, the facility is not very massive, but at any point in time, we can train 30 teachers. We have different training facilities so what we can do is that we have in-service training where we go to schools to train teachers there; we also do onsite training, so we get a much bigger space and train a much bigger crowd of teachers. We are ready to train all teachers as long as they are ready to be trained."
Dyslexia training comes in different stages as she said, "the first thing is to let the teachers identify the dyslexics in the classroom so that we can screen the child for dyslexia, and we begin to do something.
"It is always easier to intervene than to remediate. So let us identify them early before it becomes a problem that we cannot handle, such that can make you lose children to low self-esteem, drug abuse because they have fallen out of school or that they can't read and write or fill forms at 15 years or spell their names. We need to do something now to intervene before we lose those children we need to talk about teachers identifying signs of dyslexia early enough."
For a full dyslexia intervention, Tikolo said it takes years to train, as a full expert in level 7, adding that short and long courses sometimes take three months.
Asked if there are plans to partner with any organisations to ensure that children with dyslexia are taken care of, the director said: "Currently, we are working in partnership with Dyslexic International and other centres in the UK that have dyslexia centres, and they are giving us all the support. Here in Dyslexia Nigeria, we undertake screening and assessment of the children to know if the child is truly dyslexic.
"Once we do the screening, we can then design an intervention programme that will work for the child. Dyslexia is a continuum; it goes from mild to severe. Some children have mild dyslexia and some have more severe dyslexia. So once we screen them, we can do an intervention programme for them and remediate it."
On what makes the organisation unique, she said, "I choose to say that dyslexia is a word that 98 per cent of teachers have never even heard of in Nigeria; they don't know what dyslexia is. I think this is the first organisation that is undertaking dyslexia training for teachers in Nigeria. I am aware that there is a foundation somewhere but I am not sure what they do.
"What makes us particularly unique is that we screen for dyslexia. Anyone can learn about it but you cannot screen a child for dyslexia unless you are an expert. I am an expert in dyslexia. What that means is that I can screen a child to tell you the kind of dyslexia the child has and I can design a programme that will work for the child."
Asked where she sees the centre in the next five years Tikolo said, "in the next five years, I expect that we will have more centres like this around the country. We will go from here to other parts of Lagos so that we can reach teachers.
"For instance, for schools that are in Ajah, it might not be so easy to transport all the teachers even though we can do onsite training for all of them, we can have a situation where we get more teachers and we run dyslexia specialist programme for other organisations. We want to partner with Open University of the UK, run their courses and certify teachers to be specialist dyslexia teachers so that they can then help more teachers in their schools and train them continuously.
"The whole idea is to reach as many dyslexics that we can find. Dyslexia is debilitating, however, it also comes with great strength. Some of the biggest brains in the world are dyslexic; Steve Jobs of Apple, Tommy Hilfiger, the owner of IBM; Charles Rankest Flint, the inventor of the telephone; Thomas Edison, the owner of Cisco, Leonard Bosack, among others. Dyslexia helped them to see the world in a different light. However, because our world is centred around reading and writing, some of them will fall through the cracks in school. We will lose our best brains to dyslexia if we do nothing about it."