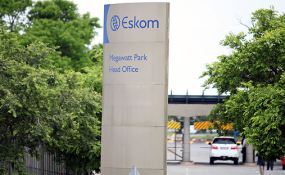 Photo: EskomSouthAfrica
analysis
Releasing Eskom's long-delayed interim results on Tuesday, acting Eskom CEO Phakamani Hadebe admitted that the energy utility's financial position is unsustainable. He blamed poor leadership at the parastatal and said government should have acted sooner. By GREG NICOLSON.
Former Eskom leaders, from chairperson Zethembe Khoza and CEO Matshela Koko to their executive, hounded and criticised journalists last year for reporting that the state-owned entity was in financial trouble as they tried to put lipstick on what was clearly a pig.
Hadebe, who was appointed only 10 days ago during a shake-up at Eskom, struck a different chord on Tuesday. Releasing the interim results, which had been postponed since November, he began by saying: "I want to highlight that what you have been writing about is correct. The company is in financial trouble."
The interim results, covering the six months to 30 September 2017, found that Eskom was a going concern but auditors noted a debt ratio that could make operations unsustainable in the future. Eskom was pressured to finally release the results by the Johannesburg Stock Exchange and claimed to have delayed them to adequately account for the 5.23% tariff increase.
The first half of last year saw a 34%...