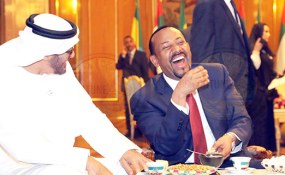 Photo: Addis Fortune
By Bilal Derso
Ethiopia is playing a leading role in connecting the United Arab Emirates with the African continent, country's International Cooperation State Minister said.
The UAE Embassy hosted a program in the sidelines the African Union Summit under the theme 'UAE and Africa Partnership from the Past, Present, to the Future.'
In an exclusive interview with The Ethiopian Herald following the event, UAE In't Cooperation State Minister Reem Al-Hashimi stated that UAE has taken Ethiopia as a gateway to foster its partnership with African countries.
The State Minister noted that she has witnessed Ethiopia's massive investment in air transport that enables the country to take the leading position in Africa's aviation industry.
According to Reem, the government has done a lot in enhancing infrastructural connectivity thereby making the country the centerpiece of AU's vision of economic integration.
Concerning the two countries bilateral relations, she said that Ethiopia is among UAE's strategic partners in Africa and the two countries shared common values.
"We have very special relationships with Ethiopia and there is exchange of frequent visits by the two countries high-ranking officials. The Ethio- UAE joint commission meeting would also be held in Addis Ababa to explore new areas of cooperation and cement the existing ones."
The State Minister expressed her country's keen interest to furthering its strong diplomatic and economic relations with Ethiopia through people-to- people ties.
Taking the two countries multifaceted relations to new heights is something the UAE government has given the utmost priority, Reem noted.