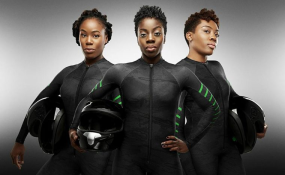 Photo: Seun Adigun/Facebook
By Femi Solaja
Former Governor of Lagos State and All Progressives Congress (APC) National Leader, Asiwaju Bola Ahmed Tinubu, has tipped Nigeria's Bobsled and Skeleton team to the XXIII Winter Olympic Games to win medals at the sports fiesta scheduled to hold between February 9th and 25th in PyeongChang, South Korea.
Tinubu said this in Lagos wednesday when South Korean Ambassador to Nigeria, Mr. Younghoan Lee, visited him to present a replica of the Games' torch to the APC leader.
While presenting the torch to Tinubu at his Ikoyi residence, Lee said: "We present this model of the Olympic torch to Tinubu, for the friendship and relationship between Korea Republic and Nigeria.
"I also want to suggest to Asiwaju Tinubu to help open more ties between Nigeria and Korea and use the opportunity to come to Korea to watch the competition of the 2018 Winter Olympic Games with Nigeria competing in two events, the Bobsled and the Skeleton events.
"Asiwaju should also meet the people of Korea and other people from across the world, and together experience the snow fall and the beautiful scenery of Korea during the Winter Games," the ambassador requested.
In his response, Tinubu expressed delight at the recognition given to him by the Korea Republic Ambassador to Nigeria.
"I appreciate the importance of the presentation of the model of the winter Olympic torch to me. The presentation is a move towards the promotion of sports and effort to cement the friendship with Republic of Korea. At this stage of our development, sport is an economic contributor to the various countries," stressed Tinubu.
He noted also that: "Even though we don't have winter or snow fall in Nigeria, we have Nigerians in diaspora representing the country in the Winter Games and they have made us proud to be the first to qualify for such in Africa.
"The torch means a great recognition to me. I am not the only Nigerian out of over 200 million people to be singled out and presented with this Olympic torch. This is very important to me and the country.
"The Nigerian Bobsled and Skeleton team should continue to strive. The mere fact that they are very creative and determined to participate is a great pride to Nigeria. We should as much as possible give them the support and encouragement to win medals. The girls should be determined to win," the APC national leader noted.
Tinubu therefore urged the Federal Ministry of Sports to encourage Nigerians in diaspora who have opportunities to engage in as many sports as possible whether they are related to winter or snow in order to keep the country's flag flying in international sport.