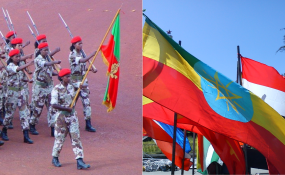 Photo: allafrica.com
opinion
By Zeray Hailemariam
In his recent marathon-long and pointless interview he had with his state Media EriTiv, President of Eritrea Isayas Afworqi has given so called political and economic analysis about Ethiopia and Sudan and Djibouti. Some who observed his much emphasis interview about these neighboring countries remained puzzled whether Isayas is a president of these mentioned countries or Eritrea. He talked little about his country and consumed his time of interview analyzing the current political challenges and forwarded his recommended solutions as if he is the leader of these states. Hence, many scholars and politicians continue to debate, anticipate on what would follow in the Horn of Africa following his war roaring lengthy interview. As an Ethiopian, I am also forced to give my perspectives on the spirit and intention of Isayas Afworqi's recent war instigating interview.
Why Isayas talk so much about Ethiopia than his country Eritrea?
President Isayas Afworqi has amazed the world in his recent lengthy interview he gave about the political bottlenecks of Ethiopia and Sudan respectively. I am one of the amazed Ethiopians who are pushed to share my views.
Following the recent Ethiopian People's Democratic Front EPRDF executive and previously Tigray People's Liberation Front Central meetings, domestic and external political parties opposed the ruling party's offers through contrasting and sometimes conflicting analysis regarding the outcome of the much loaded meetings. TPLF took 35 days ( meetings held, of course, day and night most of the time and such tight scheduled meetings is typical of the front for the last 43 years) to undertake deep and fundamental party reforms which eventually led to chairman and regional state president Abay Woldu's change .
The meeting of TPLF has deeply and transparently evaluated Party's health and strength and concluded that its strategic leadership has failed to implement government and Party policies which has led to the current nation-wide political crisis which has created bitter resentment among the public. The very people of Tigray who maintained almost absolute confidence over TPLF has been losing its confidence it had on TPLF for the later failed to deliver service and goods to the public.
Hence, TPLF has apologized the people and made its leadership accountable for the discomfort. The CC released reports of the meeting that the strategic leadership has made the current generation hopeless by marginalizing it from taking part in the political and economic fronts. Thus, the Party promised to restore its past culture and to undertake various strategies to make the educated youth and mass participate in any field of the regional government projects as far as it benefits the public.
The Party deep and fundamental reform has annoyed various political forces at home and abroad. This is expected as competing political parties never wish their foe would be much heavier them. This is normal political behavior.
The EPRDF concluding remarks which has identified its political challenges and put scientifically its solutions has triggered various debates among the public. The EPRDF executive personalities being most of them are from security and intelligence service has increased the heartbeat of Egypt and Eritrea. If EPRDF identified and put solutions for the political mess, Ethiopia will grow stronger. This creates fear and suspicions over Egypt and Eritrea for various calculations.
Egypt fears that the growing political and economic development may push Ethiopia to completely block the Nile River from flowing unchecked to Egypt. In addition, if Ethiopia continues growing, Egypt fears, that it will remain trusted and strong political powerhouse in the region. This, Egypt thinks, is against its historical interest. Hence, Egypt has left no unturned stone to create external and internal political crisis which would potential hinder Ethiopia's political and economic development. This is something researched hard facts that cannot be denied.
Egypt worked smartly in the 1950s to disintegrate Ethiopia by massively providing all rounded supports to the then Eritrean separation armed fronts which eventually led to separation of Eritrea and Ethiopia in 1991 after bloodshed for 30 years, the longest civil war in Africa. Egypt also supported various Somalia factions to extremely weaken Ethiopia. Political factions of Somalia have attempted to take the Ethiopian Somali region away from Ethiopia since 1950s too. The President of Somalia, Ziadbare waged war against Ethiopia claiming the Somali region of Ethiopia. This was with full help of Egypt. The domestic armed and non armed political fronts like OLF, ONLF, Ginbot 7 are being supported for many years by Egypt to tear Ethiopia apart. Eritrean government has served as messenger of Egypt to implement these mentioned evil projects against Ethiopia for the last 20 years by now.
Egypt and Eritrea common objective against Ethiopia
Egypt, for the aforementioned greedy interest reasons, has been changing tactics to fuel political crisis in Ethiopia by helping different elements. Eritrea which entered war with Ethiopia in 1998 has remained enemy of the current ruling regime of Ethiopia; hence it is battling for its own survival.
Thus, the two countries have common enemy - EPRDF of Ethiopia, the very Party transforming Ethiopia to Africa's power house. Seeing Ethiopia graduating as political power house for Egypt and Eritrea is not a matter of choice but survival, according their foreign policy doctrine. For Ethiopia, however, a developed Ethiopia is an advantage for Egypt and Eritrea, according to the deeds and assumptions of its foreign policy. The enemy of my enemy is my friend is a normal policy of the leaders of the horn Africa.
Therefore, before EPRDF underway practical political reform, the two foe states went to fuel fire inside and outside Ethiopia. The first targeted country could be Sudan. Rightly, Eritrea tried to instigate Sudan in the borders they share and Isayas warned Sudan in his interview. For any wise leader, entering war with Sudan for Eritrea currently is completely no less than committing suicide as Sudan fully provides food items and services for Eritrea.
We know that Eritrea has no trade or any other ties with Ethiopia and Djibouti for many years. Therefore, there is shortage of food items inside Eritrea which has been causing much human deaths though it has been held secretly. Sudan remained the only gate for Eritrea hungry of foreign currency, fuel, food items and many much needed goods and service including black markets for dollars and fuels. Contraband of all types enters Eritrea through Port Sudan. Hence, it is fair to say Sudan has been able to make Eritrea survive as a nation.
Why is Isayas so threatening Sudan? It is simple. Egypt orders him to attack Sudan as Khartoum supported Ethiopia's position on the issue of Nile River. This is a punishment for Sudan or can be considered as red-light to change its position and side with Egypt. Egypt threatens Sudan via its border links and Eritrea from the East. Trapped Sudan, the two expects, will give its hand and distance from Ethiopia. This is a well calculated move to pressure Sudan. However, we should not be politically naive. The intention behind the move is against Ethiopia. The bottom-line is to attack Ethiopia.
What should Ethiopia do then?
We have said the current Executive bodies of EPRDF and the political reforms being underway are the main driving factors for Egypt and Eritrea's threat. The two later friends calculated wisely that the new leadership can move Ethiopia to a position where they cannot push it later. Hence, it is the right time to shake Ethiopia before the executive body implements its deep reforms. Therefore, the good example is threatening Sudan first to distance from Ethiopia. If Sudan refused, the two can attack Sudan providing various pretexts so that they can get military bases to attack the first targeted country - Ethiopia. This seemed both politically and militarily calculated.
What should Ethiopia do so? As simple as such. Ethiopia without any precondition should support Sudan from being fully attacked. The required resources must be provided to Sudan as far as it is a matter of securing our national security. Eritrea should be punished if it gives military base to Egypt. Ethiopia should take swift measure to stop any activities that intend its neighbors and possibly destabilize the nation.
Editor's Note: The views entertained on this page do not necessarily represent the stance of The Ethiopian Herald.