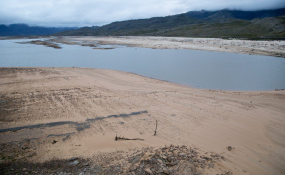 Photo: Ashraf Hendricks/GroundUp
An urgent application to have Cape Town and the Western Cape declared a national disaster area to release emergency funding was filed by the Cape Party in the Western Cape High Court on Friday.
"Day Zero will be a total catastrophe, from which the city will battle to recover," said party leader Jack Miller.
The party was established in 2007 with the aim of getting the province declared an independent state - "The Cape Republic".
It has not won any seats yet, but lobbies around issues of corruption and governance.
Miller told News24 that the sheriff was busy serving legal papers on the respondents on Friday morning and that he would wait to hear from the court regarding a date.
The respondents are listed as: the Minister of Co-operative Governance and Traditional Affairs, the president, and the premier.
The National Disaster Management Centre and the national executive are named in the papers.
The party believes the city will not be able to function under Day Zero conditions if the shortage of water leads to job losses and businesses shutting down.
"There is already tremendous anxiety over crime, the spread of disease, and basic survival. We could well see the city unravel into anarchy," he said.
Miller called on the national government to give back some of the taxes raised locally.
"The state must now come to the aid of those who fund it, especially in this hour of need."
Department of Water and Sanitation spokesperson Sputnik Ratau said anybody who wanted to take such action was within their rights.
In the meantime, the province and the City of Cape Town have activated a disaster management plan that will see people rationed to 25 litres of water a day if the amount of water stored drops even more due to consumption and the continued drought.
Source: News24