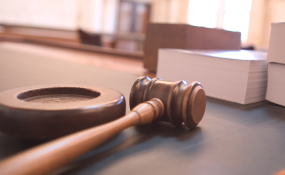 Photo: Joe Gratz/Flickr
By Ndapewoshali Shapwanale
The Trade Union Congress of Namibia has threatened to take legal action against more than 150 security companies for allegedly not paying their employees the agreed minimum wage of N$10 per hour.
Tucna president Paulus Hango yesterday said they are left with no other choice but to approach the labour commissioner and request for an order forcing the companies to comply with the minimum wage agreement at a press conference in Windhoek.
According to the union, more than 150 companies across the country are listed as not fully complying with the minimum wage agreement, while just over 30 are said to be paying the minimum wage for security guards.
"We are condemning the security companies which have refused to implement the agreed and gazetted collective agreement," Hango stressed.
A 2017 Government Gazette states that unions and employers had agreed that effective from 1 January 2017, the minimum wage for entry-level security officers should be N$8,75 per hour.
It was also agreed that all security guards employed for 12 months and longer by 1 July 2017 should be paid no less than N$10 per hour.
"We also want the guards to work only nine hours a shift, and everything after that should be considered as overtime," Hango added.
Apart from threatening legal action, the unionist said those not paying a minimum wage should no longer be given government security tenders.
He added that they would take even further steps and inform all embassies in the country about the non-complying companies so that they do not make use of their services.
"We will not rest until such a time that all security employees are paid a living wage," he emphasised.
Apart from security guards not being paid an agreed minimum wage, Hango said they have noticed that there are those companies which do pay the minimum wage, but find a way to get money back by making what he termed 'nonsensical' deductions.
He said he is aware that providing transport is not yet compulsory, and that they are also working on making the provision of transport by employers compulsory.
Meanwhile, the Namibia Security Guard and Watchmen Union's secretary general Andreas Hausiku said they are aware of some companies deducting as much as N$300 from their employees for not having polished shoes.
Also speaking at the same press conference, Hausiku said the other practice of deducting as much as N$300 from employees for not showing up at work and paying the replacing guard less than half of what they deducted, is also unacceptable.
The fact that the security industry is not well-regulated contributes to the ill-treatment of security guards, he added.
The Namibian contacted some of the companies accused of not paying the minimum wage, but they all denied it.
Both Falcon Security Services in the Oshana region and Nkasa Security company at Rundu denied that they are paying their guards less than the agreed N$10 an hour, despite them being listed as not complying.
Nkasa Security's Joseph Nyama told The Namibian yesterday that not only are they paying the minimum wage, but they are doing so despite some of their government clients yet to approve an increase in their charges.
"We asked for an extra N$2 for each guard, but we are still waiting for some government ministries to approve the N$2 extra. Even with that, we are paying N$10 per guard already while we wait," Nyama stated.
The director of Rubicon Security, Christo Groenewald, said they could not comment on whether they are indeed paying their guards less than the minimum wage as the matter is before court.
Rubicon challenged the minimum wage decision in the High Court of Namibia.
"At least we are making use of the legal processes available to exercise our rights, unlike the many hundreds of other security businesses who have been exploiting their workers for many years now by not complying to all the various minimum wage agreements from the past," Groenewald said.