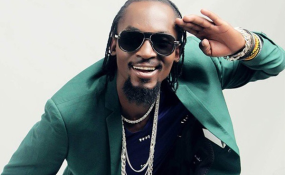 Photo: The Daily Monitor
By Isaac Ssejjombwe
Mowzey Radio passed on last Thursday at 7am after spending ten days in coma at Case Hospital after sustaining head injuries through a brawl in Entebbe on January 22, this year. ISAAC SSEJJOMBWE compiles some of his statements about his love life and music career.
On career
"Ugandan artistes are not working hard enough. If they were, we would quadruple our efforts. We have been at the same pace for four years and we are instead getting competition elsewhere, at the MTVs, Channel O awards etc."
He was then quoted saying "We want people to enjoy us as individuals and as a group. We have many solo projects coming, we just want to give our fans the best," Radio said.
On love
I don't talk about my darling in the papers. She's special. She needs her private life.
At some point, it was reported that Lilian and Mowzey had separated but he came out and said, "Lilian is still my wife, and she will be forever and ever. Haters can go hang."
He also gave her a shout outs at some promotion saying "Oh, this phone is by Lilian Mbabazi... beautiful. Please support her and buy the phone."
The cynical Radio
Mowzey Radio was a musical genius and to show his transparency, he also used his lyrics to battle his fights. He had a number of hits that were directed to his rivals.
In Ability, Radio hit out at Bebe Cool and in one line he said, "You are a minister's son but you are broke." He hit at his former manager Jeff Kiwa in Ngenda Mumaaso. He said he will reach greater heights even without his help. In kiduula kyo, he was attacking club Guvnor and in Camila, he was attacking his mentor Chameleon who he said betrayed them.
The love message in his songs
His subject of interest in most of his lyrics was love and among those songs include. Nakudata, Can't let you go, and Ntunga, Neera.