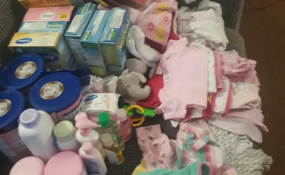 Photo: SAPS/Twitter
A fluffy grey elephant, pink-frilled clothing, soothing creams and nourishing formula are amongst the gifts from the heart given by an Eastern Cape police captain to an elderly granny taking care of her tiny granddaughter.
"Capt Mariana Swanepoel met a 80-year-old granny in the charge office at Mdantsane police station with a three-month-old baby," said Captain Nkosikho Mzuku in a statement issued on Sunday.
"The granny alleges that her 37-year-old daughter left this child to her care without any milk or clothes. She went to drink alcohol in the shebeens."
Touched by the elderly woman's plight, Swanepoel, along with some friends, went to visit the family in NU7 in Mdantsane, where a 12-year-old girl also resides.
"[They] were shocked to see the family also had no food."
Various items of food, toiletries and clothing were then purchased in the name of charity.
Describing the family's plight as one of "extreme poverty", Swanepoel said that the plan was to continue providing these goods for the next three months.
"If there is one thing that makes me happy to be a police official - [it] is to make a difference in people's lives without looking for compensation or being thanked for it."
The grandmother expressed her gratitude to the police for their assistance.
Source: News24