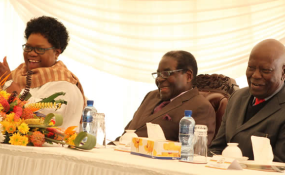 Photo: Tawanda Mudimu/The Herald
By Nkosana Dlamini
TOP publisher and academic Ibbo Mandaza says ousted President Robert Mugabe's surprise meeting with his ex-deputy Joice Mujuru Tuesday is set to rekindle the intense rivalry she had with then co-Vice President Emmerson Mnangagwa.
Mujuru confirmed Thursday she met her former mentor turned nemesis with signs the former State leader was keen to rally his support dormant base behind Mujuru's candidacy.
But Mandaza who, through his SAPES Trust's regular discussion forums, has kept a keen interest in the country's riveting political soap opera, told NewZimbabwe.com weekend the stage was set for a reincarnation of the bruising duel between Mujuru and Mnangagwa.
"Whether by design or otherwise," he said, "this would have enhanced Joice's Presidential hopes while exposing Mugabe as having been more of a pawn than a leader in the political machinations that have afflicted Zanu PF over the years.
"So, we are back to the Joice-ED rivalry of old, eyeball to eyeball."
As co-VPs during the time, Mujuru and Mnangagwa both led two strong factions which were involved in a see-saw battle for Zanu PF control.
When he was still President, Mugabe outfoxed his ambitious lieutenants through propping up either of his party's factions each time one of them looked running out of steam.
This kept political hawks busy with the feud against each other and often leaving Mugabe to rule uninterrupted.
However his attempts to prop up the G40 faction against the rising tide of a military backed Mnangagwa faction backfired, leading to his famous ouster November last year.
In his comments, Mandaza said the Mnangagwa administration should brace for a Mugabe bombshell when the latter finally gathers enough courage to expose how he was elbowed out State House.
Mnangagwa and his allies are at pains to camouflage the November coup as they try to convince the world Mugabe resigned on his own accord.
The new State leader has repeatedly told all and sundry Mugabe and family's safety was guaranteed under his rule.
This has prompted claims the former leader has kept his silence about his ouster in attempts to reciprocate the gesture shown to him by the country's new rulers.
It is also believed while Mugabe seems safe for now, he was worried about the safety of his young family when he dies and would most likely try to play a part in determining who becomes President later this year as seen by his meeting with Mujuru.
But Mandaza said any attempt to harm Mugabe at the moment would expose Mnangagwa's hypocrisy as the latter has tried to play holy in attempts to charm and convince the world into believing his ascendancy into the country's top job represented a departure from Mugabe's disastrous rule.
"There would be a global outcry, especially in the region, if Bob and family are threatened or harmed after all what ED has had to say," he said, adding that Britain's alleged complicity in Mugabe's ouster would soon be exposed.
"All said and done, it is a big plus for Mujuru and a problem about which to worry big time on the part of ED, his fellow coup gang and those in the international community like Britain in particular who are the de-facto coup sponsors," he said.
Since the watershed events of November 15, the former colonial master has since dispatched three envoys to come and meet Mnangagwa on a planned reengagement scheme among former allies.