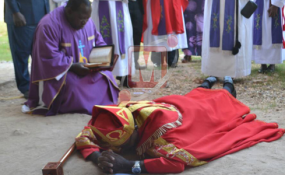 Photo: The Citizen Tanzania
By Haika Kimaro
Mtwara — The South Eastern Diocese Bishop of the Evangelical Lutheran Church of Tanzania (ELCT), Dr Lucas Mbedule has apologized to members at the Mtwara Main congregation over allegations directed at him.
Dr Mbedule asked the believers to burry hatchets and save the church from plunging into unending conflict.
Some members of the church have been opposing Dr Mbedule for almost two years now.
At one point, the members delivered their grievances against Dr Mbedule to the Presiding Bishop of the ELCT, Dr Fredrick Onael Shoo, requesting him (Dr Shoo) to go to Mtwara and talk to them and to form a committee to probe the basis of their grievances against the bishop.
But speaking during Sunday services (February 4, 2018), Dr Mbedule said he was quite unhappy with what has been happening and asked for forgiveness.
"I have wronged you. I am a sinner. I am quite undeserving. Forgive me please. Let's not tarnish the image of the church... .If there is anything, come and let's talk. My doors are open," he said.
He assured them that Dr Shoo will come as soon as the procedures for the discussions are complete, noting however that while waiting for that period, it would be prudent for them to be worshiping in their usual manner.
"My heart is different from my face... .We are human being. Let not our differences injure the church," he said.
It shall be remembered that on August 28, 2016, some members at the church went to worship while carrying placards with various messages against Dr Mbedule.
They accused him of conducting players in a manner that was against the church' tradition while others accused him of abusing believers. They also accused him of misusing the church funds.
Prior to asking for forgiveness, the members exhibited signs of trying to disrupt the Sunday service.