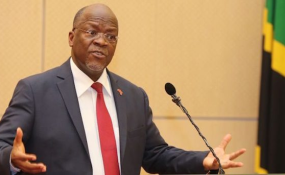 Photo: Daily News
By Ibrahim Yamola
Dar es Salaam — President John Magufuli on Sunday graced the installation of Rev Jackson Sosthenes as the fifth Archbishop of the Anglican Church of Tanzania.
The Archbishop of the Anglican Church of Tanzania, Dr Jacob Chimeledya led hundreds of the church's members and several distinguished guests during a special mass to install Rev Sosthenes.
Apart from President Magufuli and his wife, Janeth Magufuli, other distinguished guests in attendance at the special mass at Saint Alban Church include former President Benjamin Mkapa, the Chief of Defense Forces, General Venance Mabeyo and former Prime Minster and retired judge, Joseph Warioba.
Other were the Minister for Legal and Constitutional Affairs, Prof Palamagamba Kabudi, Commissioner for Immigration, Dr Anna Makakala and the Minister of State in the President's Office (Public Service and Good Governance), Mr George Mkuchika.
Rev Sosthenes has replaced Dr Valentino Mokiwa who was deposed recently after he refused to resign in the wake of a corruption provincial investigation in the Diocese of Dar es Salaam, which was also under him (Dr Mokiwa).