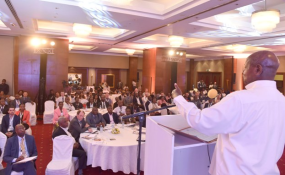 Photo: The Independent
By Julius Businge
Kampala — Uganda will start investing in the oil and gas infrastructure a head of the planned production in 2020 but there are indication that majority of the work will be undertaken by expatriates.
This is based on the fact that the Uganda Petroleum Institute, one of the institutions mandated to impart skills to the local population interested in working in the sector, has so far trained and graduated just 133 Ugandans with diplomas and certificates.
Makerere University, which introduced undergraduate courses in oil and gas in 2009, seem to have done little to address the human resource gap.
Speaking during a forum dubbed 'skilling and local content forum' organized by Uganda Chamber of Mines and Petroleum (UCMP) in collaboration with the Ministry of Education and Sports on Jan 23, President Yoweri Museveni, said the number is 'too' small.
He blamed the current situation to the low level of student enrolment in science disciplines.
"Many Ugandans are trained in humanities but there is a sizeable group who do science and technical courses," he told the audience.
Energy Minister, Irene Muloni, however attributed to the limited number of trained Ugandans in matters oil and gas to the high costs involved in the international certification, lack of internationally accredited training centres and a mismatch of the domestic curriculum to the international industry demands.
Oil and gas activities are expected to create at least 167,000 jobs at their peak during field development as well as pipeline and refinery construction, according to Muloni.
Of those, 14,000 will be direct jobs, 42,700 indirect and 105,000 induced jobs. In terms of competences, 15% [of the 167,000] are estimated to be professionals (engineers and managers), 60% technicians and craftsmen and 25% unskilled laborers.
Way forward
An official from the petroleum institute said they plan to introduce six more courses related to oil and gas this year so as to attract more students.
Muloni said the government would continue to push for skills development programs to close the identified gap together with development partners.
"It is important that we prepare the country's population for these new opportunities that are emerging in the sub-sector especially at the next stage of Engineering Procurement and Construction (EPC) scheduled later this year," she said.
President Museveni, however, said the activities in oil gas sector will go ahead as planned with or without the local human resource.
"If we don't have our people immediately (to do the jobs), we can go ahead and bring the ones near us... " he said.
Museveni said the other options are; the government would do a cost-benefit analysis on allowing oil companies establish training institutions and thereafter get back their returns [investment] by deducting on revenues to be paid to government.
The other option is to have as many private sector players starting institutions to train oil and gas skills to Ugandans who would either pay for themselves or government would foot the bill, he said, without giving the timelines for possible implementation.
Elly Karuhanga, the chairman of UCMP said the government needs to wake-up, use the legal and policy frameworks in place to urgently equip Ugandans with skills so as not to allow oil companies import labour.
Quick facts
- Uganda has confirmed 6.5 billion barrels of oil in about 20% of the potential area of which about 1.5 billion barrels is recoverable
- Uganda expects a total investment of about US$15 -$20bn in the sub-sector in the next 3-5 years. These include about $8 billion in the upstream development, $4 bn in building the crude oil export pipeline, $3.5 bn in building a refinery and other investments in support infrastructure like the airport, roads