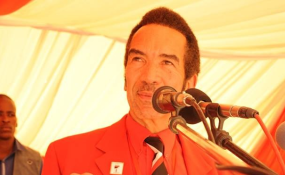 Photo: Ian Khama/Facebook
By Arnaldo Vieira
Outgoing Botswana president Ian Khama has said he will be looking for a beautiful wife after April 1, 2018, local media reported Wednesday.
In 1992, Mr Khama was engaged to Dr Nomsa Mbere, who is renowned for her charity work and for several years served as the president of the Botswana Red Cross.
President Khama later confirmed he was not engaged to Ms Mbere anymore, however, he has never been linked to any other woman apart from her.
There has always been the rumour of President Khama being gay but it has never been proven.
The Mmegionline newspaper quoted President Khama as making the announcement at Masunga village during his farewell tour.
Masunga is a village in the North East District of Botswana and is 512.8 kilometres north of the capital Gaborone.
"After April 1, 2018 I will ask Kgosi Maruje III and MP Butale to help me look for a beautiful wife also" President Khama was quoted as saying after "carefully listening" to Kgosi Maruje III and Tati West MP Biggie Butale introducing their "beautiful wives."
President Khama, 64, has been in power since 2008 and will be replaced in March 31 by his deputy president Mokgweetsi Masisi. Mr Khama is the fourth president of Botswana since the country's independence from Britain in 1966.
Multi-party democracy
Botswana is one of the Africa's most stable countries and the continent's longest continuous multi-party democracy. The southern African nation is relatively free of corruption and has a good human rights record.
Thabo Maruje Masunga III is the current chief of Masunga village, who took from his uncle Christopher Masunga.
"As you know, my job took me to different villages and towns across the length and breadth of this country, I didn't have a chance to look for a beautiful wife also," the only bachelor head of state in the region was also quoted.
According to the publication, Khama has been spotted with a 'girlfriend' Yarona Sharp, but it remains to be seen whether that's the one he will tie the knot with after April 1, 2018.
"I will also join the ranks of those who have beautiful wives".
In 2010, President Khama attracted raving media reviews when he presented his choice of a wife as, "tall, slim and good-looking and not a fat one", the Mmegionline newspaper further said.