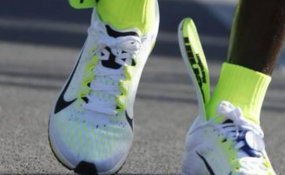 Photo: Supplied
By Gbenga Salau
Winner of the Nigerian women prize money at the inaugural edition of the Access Bank Lagos City Marathon, held in 2016, Oluwaseun Olamide, has vowed not only to reclaim her title on Saturday, but also challenge East African and other elite runners for the ultimate prize.
"It's a shame I finished eighth last year," she said. "I was just recovering from injury; but this time I am injury free and psychologically I am in the right frame of mind, as I won the two road races I competed in recently. The races were part of my build up for the Access Bank Lagos City Marathon."
After her not too impressive showing at the 2017 marathon, Olamide has won the Lagos Women Run and ARM Pensions Marathon.With the increase in the Nigeria prize money from N1 million to N3 million, and the ultimate prize of money of $50,000, Olamide definitely is looking at a big payday.
"Winning the prize money will be a good thing, but my aim is to show the world that Nigeria is not just a sprint nation and that we have very good marathoners who can compete against the best in the world," she said.She is equally not scared of the foreign elites. "I am happy running against foreign elite athletes because each time I did, I always run a new personal best. So, I am looking forward to competing against them and winning on Saturday."
She posited that the only advantage the foreign elites have over Nigerians was that their societies provide the enabling environment for their talents to blossom."We need more marathons and road races in Nigeria. Access Bank Lagos City Marathon is good, but we need to have more. Once we do and they are lucrative, many youth who are into crimes and other unprofitable ventures would focus their energy on races," Olamide said.
Meanwhile, the General Manager of the Access Bank Lagos Marathon, Yussuf Alli will today begin the training of technical and security personnel that will oversee the race.Alli said, "we need about 250 technical officials to run a successful race, but we shall be training about 350 in case we have emergency need for more technical hands; then we will have a pool of trained officials who can replace them."
Alli also revealed that policemen and other security operatives that would be working before and during the marathon would also be trained."We are not training security officials how to do security job; rather we shall be teaching them the work ethics during a sports event. We will ensure they are familiar with accreditation and who gets access to certain restricted places."
Alli urged runners and thousands of fans, who would gather at the finish line, to cooperate with the technical and security personnel."The Access Bank Lagos City Marathon has become an international event. For this edition, there will be thousands of visitors in Lagos, many of them runners, officials of IAAF, athlete managers and others, our behavior will be part of the impressions that will take home about Nigeria. So I am appealing to my brothers and sisters to conduct themselves as good ambassadors of Lagos and Nigeria and cooperate with technical officials and security personnel."