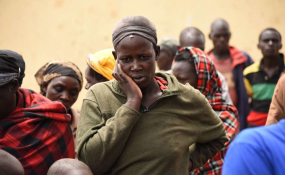 Photo: Jared Nyataya/Daily Nation
By Benson Amadala
The government has ordered 1,200 families out of Mt Elgon Forest in Bungoma County as security officers intensify a crackdown on members of an armed gang operating from their hideouts in caves.
Western Regional Commissioner Mongo Chimwaga on Sunday said the decision was reached in order to crack down on the gang.
PERMIT
The affected families are beneficiaries of a government programme referred to as the Plantation Establishment for Livelihood Scheme (Pelis) in Chebyuk Sub-County.
The families had been allowed to cultivate the land and plant tree seedlings for four years to help regenerate the forest.
Mr Chimwaga said the allocations had ignited disputes and fuelled insecurity.
Ten people have been killed in attacks by armed raiders targeting villagers in Chebyuk in the last month.
INSECURITY
Security teams have held meetings with residents. But they say they receive little cooperation from villagers in efforts to gather intelligence on the gang's activities.
"We have asked all the beneficiaries of the programme to move out of the forest immediately because of increased insecurity linked to allocation of the land in the forest," said Mr Chimwaga.
Regional police chief Moses Ombati said a suspect was shot dead on Friday as police officers pursued an armed gang fleeing towards the caves in the dense forest.
Three other suspects were beaten by villagers as they attempted to flee. They were admitted in hospital in critical condition.
CRACKDOWN
Mr Ombati said additional police officers deployed to the region accessed one of the caves after engaging in a shootout with members of the gang in Masaek Village.
"The officers found traces of blood in the cave and a nearby house indicating the suspects were injured in the shootout," said Mr Ombati.
Mr Chimwaga said no attacks had been reported in the last week after patrols were intensified.
"We are making good progress in our investigations and we have so far profiled the suspects organising the attacks and the presence of our officers has made them retreat and flee across the border," he said.