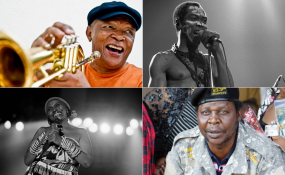 Photo: allafrica.com
By David Mungoshi
There is always something surreal about life, an indefinable little something that exudes mystery and eternity at the same time. That something is always going to be very difficult to pin down; at the end of the day you find yourself wondering if you are in a kind of perpetual dream.
We all have flights of fancy from time-to-time.
The "Shiri yakanaka" song is one such fanciful flight. Sunset in the countryside is full of these images of wonder.
Flocks of birds in formation make their way to wherever they put up for the night.
But the cawing crows are not too particular about where they lay their heads, so to speak.
Any tall building or gumtree will do. Gweru residents can testify to this. There is a spot near the charge office where the crows in their scores spend the night.
Aboard a plane, I can't help wondering just how such a huge contraption, the size of a football pitch, can take to the skies and stay afloat.
In the end I give up and let magic of air travel take over.
Vicariously, I too am a bird in these circumstances. I find I can't resist the urge to think a little, wonder a little and dream a little, to paraphrase Otis Redding.
That's the glory of flying and alighting on the firm ground like a giant metal bird.
The other day as once again I flew home from a neighbouring country, I had the opportunity to ponder.
Travelling economy class is an authentic experience. Economy is occupied by real people who laugh and talk together uninhibited.
Business class travel imposes certain limitations on everyone.
Here you are supposed to be proper and refined with practised looks and gestures.
You take all the luxury in full stride as if you really do deserve it.
On this day I eased into my seat and promptly began browsing the complimentary in-flight magazine.
An article about a tourist's experience in the City of Lagos, Nigeria, caught my eye.
Lagos is this sprawling settlement with an intimidating population of 22 million people.
It is like a city state, complete in itself and amazingly generating its own internal revenue.
In my mind's eyes I saw Lagos as an enormous city teeming with humanity.
Zimbabwe's population, our beloved Diaspora brigade included, is nowhere near that of cosmopolitan Lagos.
Reading about the Kalakuta Republic, now a national monument in the mode of Emperor Haile Selassie's palace where everything is exactly how he left it: the bed, the tub, the regalia and the stuffed lion on the porch.
It's as if he has just stepped out into the garden for a cigarette or a breath of fresh air.
Images from my visit to Addis helped me make sense of the story on Fela Anikulapo Kuti.
In the fascinating read, Realiboga Makhokolo observed that Fela Kuti had "fought for Nigeria's people through song. His message to fight corruption relentlessly still resonates today, and his legacy is celebrated at the Felebration Festival every October, with week-long festivities across the country."
Felebration! Nigerians are so creative.
They have a penchant for using words most endearingly.
I did not know the word "discombobulation" until a friend and colleague, Femi Osafisan, used it to give a play based on Chinua Achebe's novel "A Man of the People" its enigmatic title: The Discombobulation of a Rookie Patriot. Fela's socio-political and musical influence is that of a colossus. We are much the poorer without him. He showed through his own life that those who kill the body cannot kill the soul. In this case let the soul be what the man stood for. Another revolutionary musician passed on recently.
He too was a larger than life figure: the one and only, the phenomenal Hugh Masekela! Bra Hugh achieved unbelievable things in his life, things not generally associated with a black man from so-called Sub-Saharan Africa, whatever that means.
He was a composer and trumpeter par excellence and could play the cornet and the flugelhorn with facility and distinction. Directly and indirectly, Zimbabwe has helped write some of the most romantic tales in the region, musically-speaking.
In the early eighties, the man who in 1978 did the song "Tchimurenga Zimbabwe" came home to entertain thousands of his fans.
I use the word home deliberately because Sam Mangwana had indeed come home to the country of his fathers.
Come to think of it there is a clear resemblance between him and Paul Mangwana, a lawyer and former government minister.
The Mangwanas slaughtered the proverbial fattened cow and made merry with drums of ceremonial home-brew in Zvishavane.
Later Sam recorded a tribute song in honour of Zimbabwe: Zimbabwe my love.
It also turns out that Hugh Masekela, whose hit song "Grazing" reached number 1 on the American pop charts in 1967, also had Zimbabwean roots. In his case it was his great grandfather who crossed over into South Africa and eventually changed his name and became integrated. During one of his many visits to Zimbabwe and while talking on a radio show in 2014, Hugh Masekela said, "I was born in Witbank but my great grandfather came from Great Zimbabwe. Our real surname is Munyepawu. We are Karangas. We were adopted by the Batogwas in the mid-19th century."
Not surprisingly, Hugh Masekela called Zimbabwe his spiritual home.
Hugh's affection for Zimbabwe is almost legendary.
A friend told me about how during one of his regular visits to Zimbabwe, Hugh went to pay his respects to Dumi Maraire, a great music composer who was largely responsible for changing the ecumenical music scene in Zimbabwe and was also an exponent of mbira and marimba.
It is said that Hugh played a dirge on his trumpet to honour Dumi Maraire, the fallen maestro.
Bra Hugh was quick to celebrate musical genius wherever he encountered it. It takes one maestro to recognise another.
Guinea's President at independence, Ahmed Sekou Toure, famously once said with regard to music:
"To take part in the African revolution it is not enough to write a revolutionary song; you must fashion the revolution with the people. And if you fashion it with the people, the songs will come by themselves and of themselves."
Hugh Masekela did that and more. After he left South Africa as part of the King Kong Show with Miriam Makeba, Jonas Gwanga and others, a young Hugh Masekela began his long journey as a musician and political activist and stayed the course in his long exile.
Musically, the man went from strength to strength and was the proud receiver of two Grammy nominations for his music.
Most appropriate for a conscious musician like him. There was nothing frivolous in Hugh Masekela's lyrics.
Take "Chileshe", for example, a song in which he hits hard at apartheid and tells the Boers directly that they must not forget that blacks are people too, just like them. Chileshe also castigates crime and xenophobia (often referred to by others as Afrophobia). "Soweto Blues" composed by Masekela and performed by Makeba is a tribute to the children of Soweto who in 1976 rose up against apartheid.
In "Ibala Lam" Masekela proudly sings about the pride he has for his skin colour.
Typically, Masekela would not be part of any photo session in which women, obviously on skin-lightening creams and who wore false hair, participated.
The tributes that poured in for Hugh Masekela including at the memorials held in his honour, were wholly deserved.
How else could it be for a man who was truly an icon in every sense of the word?
The stars he rubbed shoulders with during his years of political exile and musical excellence include Jimi Hendrix, The Who and many others.
Bra Hugh did many collaborations and was able to blend his music with rap and other genres. Hugh Masekela's act will be a very tall order to replicate.
His impact is long and far-reaching. And his music never dates. One day Chenjerai Hove and I were on our way to some place in Mount Pleasant to play pool.
The music playing in the car was a Hugh Masekela album.
With an absorbed expression on his face and undisguised pleasure, Chenjerai Hove said to me, "Davhiti, uyu munhu unozvigonegwa uyu (David, this guy is a bomb I tell you). "
The passing on of Hugh Masekela raises the question of what we have done lately to honour artists: Comrade Chinx, Hugh Masekela and others.
We need a paradigm shift. 'Skokiaan', the bewitchingly beautiful instrumental, is among the most distinguished pieces of music from the 20th Century and a marvel to listen to.
Strangely, Zimbabwe has done nothing to honour August Musarurwa, the man who gave the world a beautiful tune.
We should learn from Nigeria's annual week of Felebration and honour him with a bust and a museum.
August Musarurwa and even Masekela make Zimbabwe a brand.