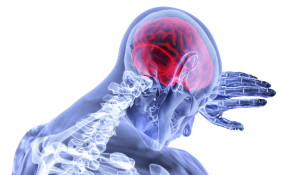 Photo: Pixabay
By Olayemi John-Mensah
A new research has suggested that stroke rate is fast declining among men than in women. Stroke is a condition where a part of the brain is affected due to a blood clot. The blood clot prevents the normal blood supply to this part of the brain.
Stroke which was reported to have dropped to the fifth leading cause of death among men, remains the fourth leading cause of death among women, according to a new study by a group of investigators from Brown University, University of Cincinnati, Indiana University and Baylor College of Medicine.
The researchers, who undertook the study for 15 years, looking at data on a total of 1.3 million participants living in five-county area, found that while the stroke rate for men declined significantly during the study period, for women there was no significant difference.
Their finding revealed that women had an average age at first stroke of 72 while men had an average age of 68 at first stroke. "After standardising their findings with U.S. Census data, the researchers found that overall stroke rates for men went from 263 strokes per 100,000 men at the start of the study to 192 per 100,000 at the end of the study. For women, the rate went from 217 strokes per 100,000 women to 198 per 100,000, but this difference was not statistically significant."
The lead author of the study, Dr. Tracy Madsen, said more providers need to recognise that more and more women are at increased risk of stroke, adding that there is need to consider being especially aggressive about risk factor control in women, noting that physicians may not counsel women about their risk factors as frequently as they do for men.
"Prior studies have shown that women are less likely to have their blood pressure at goal as compared to men. There may be biologic differences in how risk factors lead to stroke between men and women," he said.
Meanwhile, common stroke risk factors, such as high blood pressure, high cholesterol and diabetes, are all on the rise, a finding that likely reflects an aging population overall. They also found significant increases in the number of people taking medications against stroke risk factors, in particular cholesterol and blood pressure lowering medications and aspirin.
Dr Lewis Morgenstern, from the University of Michigan said, the experience of stroke is really different for some biological reason, adding that men and women experience the same phenomenon and explain it differently.
"Women who are smokers and those who are obese are at higher risk of stroke. Use of pills for birth control, women in the last trimester of pregnancy as well as new mothers soon after delivery are also considered vulnerable to stroke. Work associated stress as well as general stress can increase the chances of stroke in women."