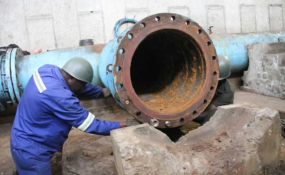 Photo: The Herald
By Innocent Ruwende
Fishing nets blocking Harare's main water source, Lake Chivero's intake chambers, are set to cost the city $2 million through another complete shut-down of Morton Jaffray.
Harare Mayor Councillor Bernard Manyenyeni said although the city had managed to remove nets at two intake points and resumed pumping yesterday, another shut-down was looming.
"We hope to be back to normal citywide by early Wednesday latest," he said.
"Please, look out for possible poor quality water as the system washes itself out. The cost of the exercise is at least $1 million for the shut-down and it has to be done again for the other two intakes.
"We are easily talking of $2 million unless a quicker method of removing the nets is found."
Over the weekend, Clr Manyenyeni said fish poacher's quest for survival of their families was costing the city.
Harare has already conceded that the water it pumps into residents' homes may not be safe for human consumption, advising consumers to exercise caution until such a time that total quality is assured.
The city says there will be less complete shut-downs of its main water treatment plant, Morton Jaffray, after city engineers and their Chinese counterparts finish installing critical equipment at the plant over the weekend, but the nets present yet another reason for shut-downs.
Harare City Council is implementing the Harare Water and Sanitation Rehabilitation Project under a $144 million facility.
Work on the project began in April 2013 and the rehabilitation is reportedly almost complete, with the contractor said to be in the process of moving from the site, but nothing has changed in terms of water quality.
Council claims to have only received half of the $144 million loan, and the other half is needed to refurbish sewer works so that the quality of effluent discharged into Lake Chivero is treated to improve the quality of raw water.
A number of old water pipes are also said to require urgent replacement.
Upon completion of the project, water supply is expected to rise to 670 megalitres from 400 megalitres.