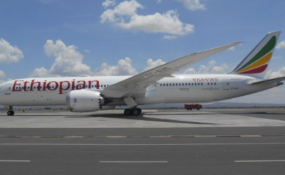 Photo: Daily News
By Solomon Yimer
The Airlines plans to transport 130tns of flowers in three direct flights weekly
Ethiopian Airlines' direct freighter flight from Bahir Dar, the capital of Amhara Regional State, to Liege, Belgium, one of the largest Ethiopian flower destinations, took-off with 45tns of flowers on January 24, 2018.
The maiden flight shipped the products from Tana Flora, Ethio Agri-CEFT and Koga Veg Agricultural Development, the three horticulture farms among the 16 located in Bahir Dar. These 16 farms occupy 1,300ha of land secured from the Amhara Regional State.
"We aim to deliver fresh flowers timely and directly from the farms," said Tewolde Gebremariam, group CEO of Ethiopian Airlines, which has over 100 international and 21 local destinations.
The Airlines is planning to transport 130tns of flowers in three direct flights every week.
Among the 100 destinations of Ethiopian flowers, vegetables, herbs, cuttings and fruit products, Belgium leads importing over half of the products. Apart from Belgium and the European Union member state countries, the United States, Russia and the Middle East buy Ethiopian horticulture varieties.
Ethiopia is the fourth largest non-European Union (EU) member exporter to the EU cut flower market and the second largest flower exporter from Africa next to Kenya. The country has 12,552ha of land ideal for horticulture but only 11pc of this is cultivated with such varieties.
Companies in Bahir Dar have been struggling to transport the products to Bole International Airport, according to Nega Mekuanint, managing director of Tana Flora, one of the companies that shipped its products on the maiden flight. Founded in October 2011 on 11ha of land, Tana shipped 30tns of flowers in the first trip.
"Most of our products get damaged while transporting them to Addis Abeba via road," said Nega, whose company targets to ship between 74tns and 90tns of flowers via air every week.
Ethiopian Airlines aims to support the export sector and the country's economy through such strategies. The country's import bill reached 17 billion dollars last year and is surging and it has struggled in boosting its export earnings stagnating at around three billion dollars for the past two years.
One of the major export items, horticulture, generated 271 million dollars last year- about 1.5pc lower than the preceding year's earnings. For the current fiscal year, Ethiopia targets to earn 433 million dollars and half a billion dollars by the end of the second edition of the Growth & Transformation Plan (GTP) from horticulture product exports.
The new addition will play a pivotal role in attracting many investors into the country, according to Tewodrose Zewde, executive director of Ethiopian Horticulture Producers & Exporters Association (EHPEA) with 75 active export businesses engaged in producing flowers, cuttings, ornamental plants, fruit, vegetables and herbs.
"As flowers are delicate, a safe logistics system is required," he said, "and if the country could manage to attain this, many foreign companies would join the sector," he told Fortune.
Ethiopian will avail similar freighter services from other flower producing regional states such as Hawassa, another region which is known for ample horticulture investments, according to Tewolde.