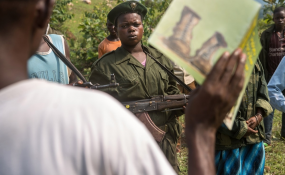 Photo: Child Soldiers International
By Jean Kassongo in Kinshasa, DRC
Kinshasa — RAMPANT militia groups in the Democratic Republic of Congo (DRC) have recruited at least 585 children for use as fighters or human shields in the war afflicting in Kasai regions.
The boys and girls have been recruited to the ranks of the rebel groups during the clashes that began with the killing of a local tribal chief by security forces in August 2016.
Clashes emanating from the killing of traditional leader Jean-Pierre Mpandi, known by his clan name Kamwina Nsapu, triggered the deadly clashes while the refusal by President Joseph Kabila at the expiry of his tenure at the end of 2016 heightened tensions.
Humanitarian organisations disclosed that in addition to the recruitment of minors, at least 120 children have been abducted and abused while 350 youngsters have lost track of their families.
They are classified as unaccompanied.
In addition, more than 64 000 women have been violated during the crisis afflicting the central provinces of Kasaï, Kasai-Central, Kasai-Oriental, Lomami and Sankuru.
"Violence has serious consequences for the protection of civilian populations, including minors," said a local spokesperson of the United Nations Children's Fund (UNICEF).
Basic infrastructure has been looted or destroyed, limiting access to health care, water, sanitation and education to affected regions.
Some 400 schools have been attacked and teachers fled.
In 2017, 93 people died of cholera in Kasai while 80 succumbed to the disease in Lomami.
An outbreak of measles killed 27 people in Kasai, Kasai Central and Lomani during the year.
More than 3,5 million people are in need of emergency humanitarian assistance.
Agencies require US$418 million (about R5 billion) to intervene.