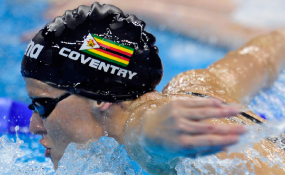 Photo: Kirsty Coventry
Legendary Olympic medallist Kirsty Coventry has been announced as the new chairperson of the International Olympic Committee (IOC) Athletics Commission after a meeting held in Pyeongchang 2018 Winter Olympics Monday.
Coventry, who was favourite to land the post, has been a member of the IOC Athletes' Commission since 2012 becoming the 3rd successive female IOC Athletics Commission chair after Angela Ruggiero and the first chair from Africa Namibia's Frankie Frederick's.
Soon after the meeting, Coventry said her desire was to continue to build and implement the strategy which seeks to empower athletes' participation in the Olympic movement, decision-making process and support athletes' development in their sporting and non-sporting careers.
"The main objectives I would like to focus on are the implementation of this great strategy that we have all worked so hard to bring together," Coventry told the media.
"We also need to ensure we continue to improve and be proactive with our communications."
She added, "This will help us to build a stronger global athlete community that is truly reflective of the athlete representatives."
Coventry is also a member of the World Anti-Doping Agency (WADA) Foundation Board and the athlete representative on the Board of the new Independent Testing Authority (ITA) as well as vice president of the International Surfing Association (ISU).
The Zimbabwean legendary swimmer is a seven-time Olympic medallist who won the 200 metres backstroke honours in Athens, Greece in 2004 and Beijing China in 2008 among others.