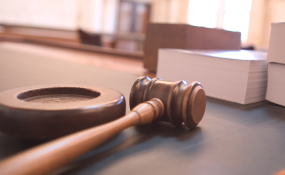 Photo: Joe Gratz/Flickr
By Luqman Cloete
The state yesterday successfully opposed the granting of bail to three men arrested in connection with the murders of elderly farming couple Giel (79) and Sarie (80) Botma last Friday at their farm Lindeshof near Koës in the //Karas region.
Julius Frederick Arndt (40), Andries Afrikaner (37) and Johannes Christiaan (36) were yesterday charged with murder, housebreaking with intent to rob and robbery, theft of a motor vehicle, possession of a firearm without a licence, and illegal possession of ammunition.
They were not asked to plead, and their case was postponed to 23 April to allow for further police investigations, and for them to apply for legal aid.
It is alleged that the trio shot and killed Mr Botma before strangling his wife after they gained access to the couple's house through a window.
Arndt and Christiaan on Sunday confessed to housebreaking and theft from the Lindeshof farmstead to a Keetmanshoop magistrate, but denied murdering the couple.
In opposing bail, prosecutor Marlon Adams yesterday argued that the accused, who had been convicted of similar offences in the past, might interfere with the investigation if released on bail.
Pointing to the public outcry over the elderly couple's killing, he said it would also not be in the interest of justice to grant them bail.
Adams further contended that the state had a strong case against the suspects, who face lengthy jail sentences if convicted, adding that they might abscond if granted bail.
Presiding magistrate Frans Anderson remanded the suspects in police custody.
The farming community of the Koës district yesterday gathered in big numbers at the Keetmanshoop magistrate's court for a silent demonstration against the granting of bail to the suspects.
In a petition delivered to the state prosecutor, they expressed concern that similar attacks might follow if the suspects are released.
"Due to the nature and brutality of the attack on the deceased couple, the community has reasonable grounds for suspecting that all community members' lives are at risk," the petition reads.
Giel Botma was killed by a gunshot wound to the head, while his wife died of suffocation.
The farmers argued that the accused might also "intimidate and kill" key state witnesses if granted bail.
"The assault on the defenceless victims was cruel, and they were killed without thought," the petition stated.
Farmer Hannes Visagie said the silent protest at the court should not be seen as them playing the "race card".
"We are not talking about an issue of black and white, but want to illustrate that the public will not tolerate crime. We want justice to take its course," he added.
The farmer revealed that similar protest action will be staged when the suspects return to court in April.