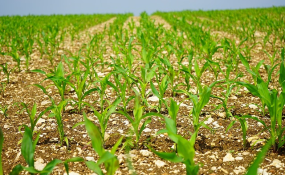 Photo: Pixabay
By Sarah Munthali
Mchinji — Mchinji district has projected a 10 percent yield loss in maize in the 2017/18 farming season due to dry spells and fall army worm attack.
Mchinji falls under the Kasungu Agriculture Division (ADD) and forms seven Extension Planning Areas (EPAs) covering 13 sub and traditional authorities.
The district faced a dry spell which was experienced from 26 December, 2017 to 12 January, 2018 coupled with fall army worms affecting maize and beans in the district.
In a report from the service committee on agriculture and natural resources presented at the Mchinji district full council, the dry spell affected 2,595 hectares of maize hence affecting 9,671 farming households.
Chairperson of the committee, Councillor Dennis Lazaro said 412 hectares of beans had also been affected by the dry spell affecting 673 farming households.
"The district planted 95,156 hectares of maize of which 1,150 hectares had been infested by fall army worms while 5,518 hectares have been controlled translating to 12,217 farmers that have been affected," he added.
With the resumption of the rains from 13 January to February, the situation is back to normal mostly in maize, however some losses will be expected in maize and bean crops according to Mchinji district agriculture officials.
The District Agriculture Development Officer (DADO), Precious Chautsi told the Malawi News Agency (MANA) that his office managed to control 113 hectares of crops using pesticides from Kasungu ADD and from the Food and Agriculture Organisation (FAO).
"Since it is projected that the fall army wormy will be in the district for a while, our team is in the field to encourage farmers to use natural and physical ways of dealing with the army worms such as using sand and physically killing the worms, and putting traps to kill male moths," he explained.
He also called for multi-sectoral efforts from organisations and individuals in dealing with fall army worms saying his office cannot deal with the worms on its own.
The DADO also reported that a total of 36,800 beneficiaries from poor households received their coupons from the fertilizer and input subsidy (FISP) programme in the district.
Meanwhile the Mchinji district service committee on agriculture and natural resources recommended intensification of awareness meetings through the community radio available in the district, lobbying stakeholders to support trainings or procurement of pesticides to help in the fall army fight.
The committee also recommended food security stakeholders to support irrigation activities and support farmers using residual moisture, and lobbying the district development fund (DDF) to provide resources to purchase drought tolerant planting materials such as cassava cuttings and sweet potato vines to cushion the dry spell effects.