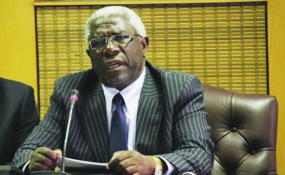 Photo: The Herald
By Staff Reporter
University of Zimbabwe Vice Chancellor Levi Nyagura has come out guns blazing to furiously refute reports that Grace Mugabe was not the author of her PhD thesis and that she graduated before it was written.
This come after UZ lecturers from the sociology department recently approached lawyers saying they were certain that the former first lady had not registered at the country's oldest university.
Since her graduation in 2014, reports have said former president Robert Mugabe's wife's thesis was not available something which many said was evidence that she had just been awarded the degree for political reasons.
The thesis was finally posted on the UZ website a few weeks with many saying it had many irregularities suggesting it was hurriedly written.
But Professor Nyagura dismissed allegations that the thesis was not in the library until this year. Prof Nyagura claimed the thesis was deposited at the university library in 2014.
"Those are all lies. The thesis has always been in the library since 2014," he was quoted as saying in the state media.
Nyagura said Grace's thesis was supervised by two professors, who also supervised former Vice President Joice Mujuru.
"Whoever is challenging the appointment of Professor Mararike is ignorant of the University's ordinance laws, which is why maybe they are not Professors. The laws say 'may' consult not 'must' consult," he said.
Nyagura blasted the complaining UZ lecturers saying they were "ignorant Messrs and doctors" with no academic capacity to supervise a PhD student.