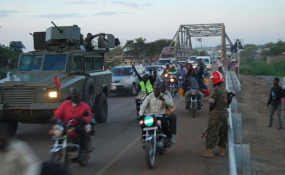 Photo: Daily Monitor
By James Owich & Cissy Makumbi
Kitgum/Amuru — Security officials in the districts of Kitgum and Amuru have raised a red-flag as insecurity in the area takes a new twist.
Security officials allege that the conflict in South Sudan is helping to arm criminal groups who smuggle illegal weapons into Uganda through the porous border points of Elegu in Amuru District and Ngomoromo, Aweno-Olwiyo and Waligo, all in Lamwo District.
The criminal gangs later use the weapons to rob and kill residents in Acholi and Lango Sub-regions.
More than 40,000 South Sudan nationals are living as refugees in three settlement centres of Palabek-Kal, Palabek-Gem and Palabek Ogili, in Lamwo District.
The South Sudan nationals fled their homes in March last year when the Sudan People's Liberation Army (SPLA) forces launched a manhunt for several militia groups in Imatong state considered a security threat to President Salva Kiir's government.
Kitgum Resident District Commissioner William Komakech, says in the last six months, security personnel have recovered 12 illegal guns.
He says 10 out of the 12 guns recovered by the forces can be traced back to South Sudan.
Attack on forces
"The other two were violently robbed from police and UPDF (Uganda Peoples Defence Forces) officers by members of the gangs that have been terrorising the residents of Kitgum," he says.
Mr Komakech reveals that some of the weapons are believed to have been bought on the black market in South Sudan at Shs50,000 before being sold to members of the criminal gangs in Uganda at Shs150,000.
He explains that the criminal gangs have set up networks over the sub-region and they are targeting business people.
He identifies one of the gangs as Kabi (meaning danger).
In the last two years, gun related violence saw six people killed in Kitgum District alone.
His counterpart, the Amuru RDC, Mr Bilak Jalmoro, confirms that there are armed gangs that have emerged as a result of the current conflict in South Sudan and that they have been terrorising residents in the district without trace.
"As the district security committee, we have taken the intelligence reports with keen interest and soon members of the group will be arrested," he says.
Aswa regional police spokesperson, Mr Jimmy Patrick Okema, says some of the wrong elements are taking advantage of the porous borderlines between Uganda and South Sudan to smuggle illegal weapons.
Mr Okema notes that half of the illegal weapons that find its way into the country are transported through un-gazetted crossing points in Lamwo and Amuru districts making it very difficult for police and other security agencies to detect and recover them.
The 4th and 5th Division Army public relations officer, Telesphor Turyamumanya, says there is spillover from the war in South Sudan.
"There are several criminals that are benefiting from the conflict in South Sudan but as security we shall deal with them accordingly," he says, adding that whoever has sneaked into the country with ammunition is a criminal and will be dealt with.
Raiding refugee camps
Late last month, security officials in Lamwo District were concerned as suspected Sudan People's Liberation Movement-in-Opposition (SPLA-IO) soldiers were sneaking into Lamwo Refugee Settlement due to hunger back home.
In January this year, police officers at Elegu border point intercepted Flavia Akech, 42, crossing to Uganda from South Sudan with an assortment of explosives including 17 hand grenades, 13 magazines of semi-automatic guns, 16 grenade fuses, 569 loose ammunition, 145 PK ammunition in chain and 348 PK loose ammunition.
Others were two pistols with three rounds of ammunition.
In November last year, police arrested a South Sudan refugee who was found with ammunition in Palabek Refugee Settlement.
In December last year, in Kitgum District, a suspected member of armed gang identified as Joe Okello, 24, told police that he bought an AK 47 gun on black market in South Sudan.