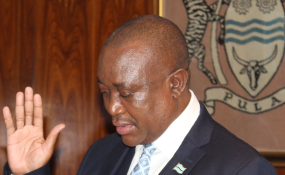 Photo: Botswana Daily News
By Benjamin Shapi
Gaborone — Chief Justice Maruping Dibotelo says he is happy that as he leaves office sometime end of April, all legal issues surrounding the judiciary system that formed unpleasant centre stage in 2017 have been resolved amicably.
Speaking during the 2018 Legal Year opening at Gaborone High Court yesterday, Justice Dibotelo said 2017 had its turbulence for the judiciary with court challenges of the tenure of Justices of Appeal, the question of procedure on the appointment of judges of the High Court, litigation involving the Chief Justice, Judicial Service Commission and some individual High Court judges.
Justice Dibotelo was however pleased to report that all those matters were resolved during the course of 2017, and was looking forward to stable and productive 2018.
He further welcomed the previously suspended judges and also paid tribute to the then acting judges.
In the meantime, Justice Dibotelo applauded President Lt Gen. Dr Seretse Khama Ian Khama and his predecessors for setting a good example of abiding by the country's constitution limiting the presidency to two terms.
He noted that the array of statesmen the country had had continue to show a story of succession that spoke well of the country.
To this end, he said this narrative should get bolder and bolder even in the continent as generations hand over to succeeding ones, noting that many seemed to take it for granted in this country, yet elsewhere in the continent some leaders looked for excuses to manipulate the law to extend their stay in power.
Furthermore, he paid homage to President Khama for he demonstrated his leadership skills while in the army, cabinet, vice presidency and as State President.
He noted that while he took over power during world economic recession, he stirred the country through the debilitating effects of that 'storm' making sure that the economy was strong and robust.
On other news, he said since he would be retiring from the judiciary on April 30, he would be handing the button to his successor, whom with the support of the other arms of government and key stakeholders, would continue to build on the foundation laid by his predecessors.
Justice Dibotelo retires after serving for 13 years as a judge and seven years as Chief Justice, apart from his earlier years as a civil servant and practicing attorney.
He said he was humbled and privileged to have worked closely with President Khama, cabinet ministers and senior government officials.
"This is my last Legal Year Opening Address and will become apparent, its theme, 'Reflections on the Efficacy of the Reforms (2008-2017) and the Future Outlook' hinges on the achievements and challenges during my tenure as a Judge and Chief Justice.
The achievements realised are our collective success while I own up to the shortcomings," he said.
Still on the same breadth, Justice Dibotelo said their 2018 calendar had a plethora of events and programmes geared towards strengthening and enhancing their internal processes with a view to improving service delivery.
Some of the vents include tour by the Kingdom of Lesotho's Criminal Justice Sector to benchmark on Criminal Record Management System and Judicial Case Management, the Palapye Judicial Conference and Excellence Awards Ceremony among others.
Source : BOPA