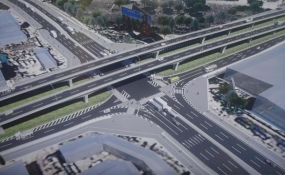 Photo: Daily News
By Alfred Zacharia
Dar es Salaam — Construction of the Tazara flyover in Dar es Salaam is at an advanced stage and may be completed earlier than planned, Tanzania National Roads Agency (Tanroads) said yesterday.
This should be good news for city residents who have in recent years had to endure endless traffic jams leading to the junction of Nelson Mandela Expressway and Nyerere Road.
The $45 million (Sh100 billion) project, which is funded by the Japanese government through the Japan International Cooperation Agency, was earlier earmarked for completion in October, this year.
But the project engineer from Tanroads, Mr Rajab Manger, said construction was 74.68 per cent complete.
"At this rate, the project could be completed before October. We are well ahead of schedule," he said when briefing officials from Lesotho's Ministry of Public Works, Transport and Communications, who were visiting various infrastructure projects in Dar es Salaam.
"I'm confident that motorists will soon start to enjoy stress-free driving at the Tazara junction since construction is about to end."
Mr Manger added that the contractor had done a commendable job, noting that no serious accident had taken place since construction began in late 2016.
The delegation, led by Lesotho's Public Works, Transport and Communications minister, Mr Lehlohonolo Moramotse, is in the country on a study tour after which the southern African country hopes to adopt infrastructure development and maintenance methods used in Tanzania.
In another development, Mr Moramotse said Dar es Salaam's bus rapid transit (BRT) system had impressed his delegation.
He said Lesotho would take its cue from Dar es Salaam and consider establishing a BRT system in the capital, Maseru.
"With a population of approximately 253,000 in Maseru, the traffic situation is becoming unbearable, and we need to adopt the BRT system."
Mr Moramotse said Maseru residents currently depended on commuter buses, taxis and private cars as a way of commuting within the city.
"I came to Dar es Salaam with a number of experts to study the road infrastructure. Dar es Salaam's rapid transit system has inspired me a lot, and I want to see it adopted in my country. I hope that one day Maseru residents will park their private cars in parking centres and take rapid buses to their workplaces."
Dar es Salaam Rapid Transit Agency chief executive Ronald Rwakatare promised to offer Lesotho the necessary advice and assistance should the country decide to set up a BRT system in its capital.