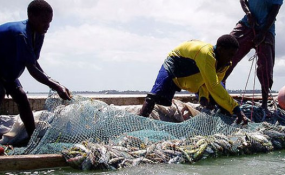 Photo: Daily News
By Sylivester Domasa
Dodoma — LAWMAKERS have welcomed the government decision to curb illegal fishing but warned against measures that appear targeted at small-scale operators. Contributing to a report from the Parliamentary Committee on Agriculture, Livestock and Water tabled in the National Assembly yesterday, MPs expressed discomfort over recent actions taken by the Ministry of Livestock and Fisheries against small fishers.
Earlier this year, the Minister, Mr Luhaga Mpina, seized and destroyed illegal fishing gears worth over 2bn/- that were being used in Lake Victoria, Africa's largest lake by area. But Geita-Rural MP Mr Joseph Kasheku (CCM) told Parliamentarians "I'm shocked with the new law being enforced by the new minister ... it's a very strange law, " he said.
The MP argued that the government was humiliating small-holder fishers under the pretext of controlling illegal fishing, and that use of illegal fishing gears was legally prohibited. "... we MPs from the Lake Zone are concerned whether the minister has plans to prevent us from coming back to the next parliament," he charged.
He claimed that one group of fishermen had their facilities worth nearly a billion shillings destroyed by the minister just a day after taking them to the Lake. "It's high time the ministry takes time to train these small fishermen on best practices than making them bankrupt," he charged.
Another MP, Ms Swale Semesi (Special Seats, Chadema) wondered aloud how long the government would continue destroying fishing gears. She said it took decades-now the ministry battling the same illegalfishing urging for new measures especially that involve fishers to address the problem. Dr Mary Nagu, Chairperson of the Parliamentary Committee on Agriculture, Livestock and Water told the August House yesterday fishing performs poorer in the gross domestic product-GDP.
The "committee had been urging the government to invest in the fishing ports, however, implementation of the advise remains in documents," Dr Nagu said. She noted further that the government has equally failed to release sufficient funds to finance procurement of facilities required in the battle against illegal fishing.
"There is no excuse in the fight against illegal fishing," the committee said calling on serious action to increase government funding to help wipe out illegal fishing that cost the country in revenues generation.