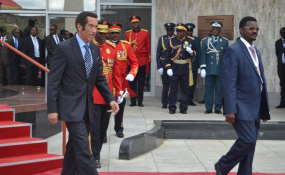 Photo: New Era
By Albertina Nakale
Windhoek — Botswana President, Lieutenant-General Seretse Khama Ian Khama, who is expected to step down next month has shared his journey on how he successfully fought corruption during his 10-year tenure.
Botswana is the least corrupt country in Africa, according to the findings of the annual Transparency International Corruption Perceptions Index. Compared with its neighbours, Namibia included, Botswana reports fewer crimes and fewer cases of bribery.
It reportedly has a successful whistle-blower hotline where one can call and report corruption.
The 2016 Corruption Perceptions Index report published the top ten least corrupt African countries of which Botswana was ranked the top least corrupt followed by Cape Verde, Mauritius, Rwanda while Namibia was ranked the fourth least corrupt country in Africa.
During his two-day state visit to Namibia, Khama said their approach is zero-tolerance.
"We don't just put up words there, we also take action," he said.
According to him, the Botswana government first set up an anti-corruption agency, which is an independent and autonomous body that investigates corruption allegations and prosecutes where necessary.
Further, he revealed that the government also set up anti-corruption units in every ministry especially those prone to graft to ensure they trace any opportunities of corruption.
"These anti-corruption units are responsible for educating and creating awareness among officials in those ministries against the effects of corruption," he said.
In this regard, Khama said, they don't allow corruption cases to drag on for long, unlike in other African countries.
He said this is made possible by the dedicated members of the judiciary who ensure that cases get resolved urgently and those found guilty face the wrath of the law.
"We want the cases to be fast-tracked when they go through the courts. If they drag on forever, you won't really see the impact. People won't see the perpetrators of corruption are being dealt with. We have dedicated judges who ensure that any corruption cases that appear before them are not held up by other civil and criminal cases. Any corruption case goes straight to the judge and he deals with it, and we see justice being served expeditiously."
In Namibia, for instance, several corruption cases have appeared on the court roll for years without anyone facing justice.
Equally, Khama emphasized that the government also ensures that these anti-corruption units create awareness among schools and councils for community members to be aware that corruption is a disease that "we can't tolerate".