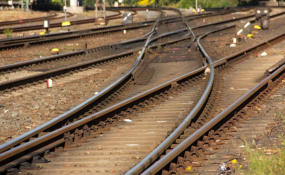 Photo: Daily News
By Chila Namaiko and Mildred Katongo
Zambia Railways Limited (ZRA) has struck a commercial deal with South African freight logistics agency, Transnet, for the acquisition of a fleet of eight new locomotives and 600 wagons of different shapes designed for bulk haulage.
Some of the bulk cargo expected to be moved off the road and onto the railway line include copper, copper and cobalt concentrates, sugar, coal, cement, sulphur and fuel.
ZRL Chief Executive Officer Christopher Musonda said in Cape Town yesterday the new locomotives and wagons would help to support the implementation of the recently signed Statutory Instrument (SI) directing that 30 per cent of heavy cargo now transported by road be moved to the rail-line.
Speaking on the sidelines of the on-going 24th Investing African Mining Indaba which opened here yesterday, Mr Musonda said that implementation of the SI would help to preserve Zambia's road infrastructure.
"When the SI has been introduced in Zambia, the question has been, are we going to build capacity to carry the copper output and copper inputs into various ports? The answer is 'yes' in that we have made preparations with our colleagues here Transnet where, for the initial position, we have agreed that they will give us eight locomotives and 600 wagons. It's purely a commercial deal," he said.
He said the new rolling stock would create capacity for ZR to match the demands of importers and exporters who have to comply with the demands of the SI.
Transport and Communications Minister Brian Mushimba last week signed a Statutory Instrument (SI) to compel transporters of heavy cargo to move 30 per cent of their heavy goods from road to railway.
The SI is due to take effect within 30 days.
Mr Musonda said ZRL was meeting management of Transnet and various investors to help them appreciate the capacity by the country's railway sector to handle bulk cargo.
He said a team of ZRL engineers was expected here yesterday to inspect the newly-acquired locomotives and wagons.
Meanwhile, the Tanzania Zambia Railway Authority (TAZARA) has dispatched an engineer to South Africa to conduct a due diligence on five U30 mainline locomotives that are to be hired within the next few weeks.
TAZARA is further awaiting shareholders' approval for an open access agreement with a private railway operator that has already started conducting trial runs between Ndola and Dar-es-Salaam.
TAZARA Managing Director Bruno Ching'andu said the move would boost the haulage capacity to meet the huge demand expected to be created by the SI.
This is contained in a statement made available by Tazara head public relation Conrad Simuchile.