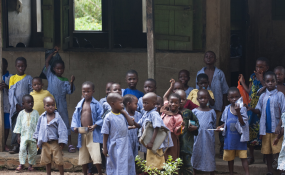 Photo: UNICEF
By Abdullateef Salau
The United States Agency for International Development (USAID) has provided a peaceful environment for basic education and psycho-social support to more than 80,000 out-of-school youths in five conflict-affected states in north-east Nigeria.
Through the Education Crisis Response (ECR) activity, USAID in conjunction with state governments and civil society organisations established more than 1,400 non-formal learning centres, according to a statement from the US Embassy in Abuja.
The centres, the statement said, focused on teaching literacy and basic mathematics, and provided socio-emotional learning activities to counter the negative effects of violent extremism.
More than 800 instructors, known as learning facilitators, were trained to staff the centres, while more than 11,000 teachers in the formal sector also received training on socio-emotional learning and enhanced basic education instructional techniques.
"For some 22,000 older learners, the nine-month basic education curriculum was complemented by market-oriented vocational skills that helped participants generate income for their families.
"Additional special Adolescent Girl Centers help teenage girls heal, learn, and gain valuable life skills," the statement said.
The three-year, $24.7 million ECR officially closed on January 26, 2018.
"The ECR activity helped to answer widespread demand for quality secular, primary education in north-east Nigeria," USAID Mission Director Stephen M. Haykin said.