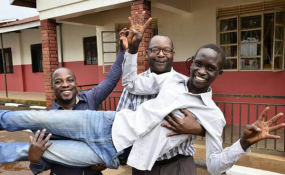 Photo: Alex Esagala/Daily Monitor
By Patience Ahimbisibwe
Kampala — Uganda National Examinations Board (Uneb) has said about 49 people were arrested, charged and some released on bail over their alleged involvement in examination malpractice.
The Uneb executive secretary, Mr Dan Odongo, told Daily Monitor that some suspects had been remanded, while others were released on bail but he declined to give more details, referring this newspaper to police.
The detective commissioner of police, Mr Venus Tumuhimbise, who was key in the investigations, also referred us back to Uneb as the main complainant.
Last year, Daily Monitor broke a story that some Senior Four national examinations papers had leaked to the public before the candidates could sit them. Uneb later confirmed the incident, but said the matter was not too widespread to lead to their cancellation.
And as the ministry prepares to release the awaited Uganda Certificate of Education results today, it is not clear how many candidates will be affected.
"The results will be released tomorrow (today)," Mr Patrick Muinda, the ministry of Education spokesperson, said yesterday.
Background
In November last year, an investigation into the alleged leakage of examinations zeroed on a scout and an area supervisor, whom Uneb had deployed to oversee the papers.
According to Mr Odongo, police investigations showed that the scam had started from one of the storage facilities in Iganga, eastern Uganda, where the area supervisor connived with the scout, who surrendered the key to the store and accessed the examination papers at a fee.
"The source was revealed as coming from a storage station called Busesa somewhere in Iganga towards Tororo. The suspect informed police that it involved the connivance of area supervisor and a scout who had been posted to oversee the conduct of the examination," Mr Odongo said then. The suspect was later arrested.
His arrest brought the number to 27 suspects at the time.
However, Mr Tumuhimbise last week said their investigations had led to more arrests but declined to share the details.
Explaining the arrests last year, Mr Odongo said some were made from districts of Ibanda, Wakiso, Mbarara, Mukono, Bunyangabu, Serere, Amuria and Kampala. Some of the suspects were teachers, a bursar, a school director and a student both from Iganga District.
Sources who shared the leaked papers but were not willing to be named because of the sensitivity of the matter, told Daily Monitor that the leaked papers circulated after 1am and teachers with their students, discussed the question papers, hours to the official time.
The Daily Monitor exposé in October showed that some candidates and teachers obtained copies of Chemistry and Christian Religious Education (CRE) papers hours before the scheduled examination time.
Some of the papers were shared on social media platforms, mostly via WhatsApp. In addition, sources said interested parties would part with not less than Shs500,000 to access each paper.