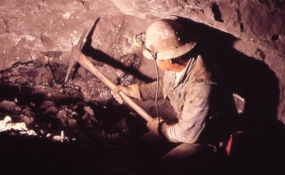 Photo: Daily News
By Tobbias Jolly Owiny & Isaac Otwii
Lira — The Operation Wealth Creation (OWC) programme deputy coordinator, Lt Gen Charles Angina, has said the country's stock of uranium in south-western Uganda is so abundant that can light the Africa for more than hundred years.
Gen Angina made the remarks at the zonal National Agriculture Advisory Services and OWC review meeting for in Lira town on Tuesday.
He was propelled to highlight on the 'large uranium deposits' in the south-west following public criticism that the army efforts to rid the country of poverty through OWC was fruitless.
"If uranium alone can change this country and make it wealthy; why do we then doubt that wealth is not coming? We have a lot of minerals and our uranium deposits can light the continent for 100 years because it is in abundance," Gen Angina said.
While he called for a total change in mindset in Ugandans about positive progress in the economy, Gen Angina cited tin, iron and oil besides among the richest minerals that Uganda currently country possess.
" If you don't want wealth begin preparing to leave this country because if you don't change your mind set, wealth is going to overtake you and you will be left behind," he said.
Although Uganda has uranium stocks for nuclear development, Gen Angina warned that, "we have uranium which can make nuclear energy but we are not going for nuclear weapons for now, may be in future when our resources have erected."
He, however, noted that the high corruption levels in the country and misappropriation of public funds have slowed down the mineral and economic development of Uganda.