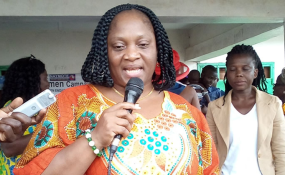 Photo: FrontPage Africa
By Toweh Alphonso
Vice President Jewel Howard-Taylor has pledged commitment to working closely with the government and civil society organizations to ensure the rights of women are respected and protected, thereby ensuring zero tolerance for Female Genital Mutilation (FGM) in Liberia.
Madam Howard-Taylor further vowed to ensure girls reach their full potentials by guaranteeing that no opportunity is denied them so as to progress in life.
She made the commitment on Tuesday, at program making international day of zero tolerance for Female Genital Mutilation (FGM) held at the Monrovia City Hall.
According to her, this is a basic human right and they owe it to women and girls live and grow up in a secured environment without any threat from any quarter.
"As we work together with renewed determination towards achieving zero tolerance for FGM, let's remember the significance of this work not only for the fight against FGM peruse, but also for enhancing an open society where all women and children are free to exercise their human rights.
The Liberian Vice President equally asserted that traditional and cultural practices have long played an important role in Liberian society and continue to permeate many aspects of life in Liberia as a result, in Liberia, FGM is considered by many as central to age-old traditional practices, noting that it enhances the acceptability of women and girls in society.
Madam Taylor lamented that too often, violence against women and girls are perpetrated in the name of protecting cultural values and social norms.
She stated that the continuing practice of FGM is a striking example of the inequality of women and girls, going hand in hand with the abuse of women, including domestic violence.
Taylor further explained that violence against women and girls takes many different forms, including domestic violence, sexual assault and harassment, child, early and forced marriage, sex trafficking, so called 'honor' crimes and female genital mutilation.
"It is rooted in the gender inequality that women face throughout their lives from childhood through old age," she added.
Subsequently; the Vice President calls on political leaders particularly the legislature to work towards the passage of the Domestic Violence Bill if they must end FGM and all forms of violence facing women and girls in the nation.
It can be recalled that ex-Liberian president, Ellen Johnson Sirleaf passed the executive order #92 on the issue of domestic violence bill and the abolition of FGM against girls below 18 years thus criminalizing FGM for those above 18 years of age who have not consent to the act.
Meanwhile, according to 2017 statistics from the national working group against FGM through the women's solidarity incorporated (WOSI) initiative, approximately 35, 000 girls and young women have undergone FGM which is practiced in 10 out of 15 countries.
Over 40% of girls drop out of school after undergoing the practiced and become wives and young mothers while they are still teenagers.
The effects of FGM are deep and far reaching with lasting harm. The pain, the physical wounds, sustained emotional torture and at times death that FGM causes affect young women and girls, causing them to be unproductive in their communities.