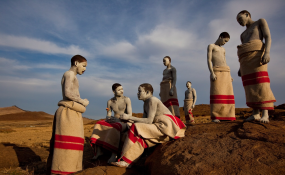 Photo: The Wound/Facebook
opinion
By Noluthando Yeni
South Africa's discourse has followed a criminal pattern of commonly taking place in spaces where people want to come across as woke and progressive. As noble as this may be the consequence is often white women speaking for all women, the upper middle class speaking for the poor or black men speaking for black people with the disadvantaged suffering even more as a result of this - the robust debate relating to the screening of the film Inxeba is no exception to this trend.
I introduce myself as a feminist and LGBTQI+ movement ally, I also highlight that I only draw parallels from movements such as the feminist movement, #FMF and observations from my gay cousins and friends who have taught me tremendously (and at times tiresomely) the true concept of inter-sectional politics.
I don't know what happens at initiation school, and perhaps I shouldn't. I would like to emphasize that my objections with the screening and celebration of the movie Inxeba aren't an attestation on how the movie supposedly disrespects sacred cultural practises. In fact I don't subscribe to a universe that believes in oppressing any group of identities and very often 'sacred' cultural practises lend themselves into oppressive...