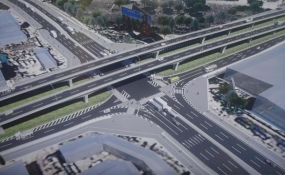 Photo: Daily News
Construction of the Tazara flyover at the junction of Nyerere Road and the Nelson Mandela Expressway in Dar es Salaam is reportedly done by 74 per cent.
Nyerere Road links Dar es Salaam city centre with Julius Nyerere International Airport (JNIA), while Mandela Expressway links Dar es Salaam port with other hubs.
Heavy trucks, buses and other motorised traffic rushing to and from the seaport, as well as those to and from JNIA, involuntarily meet at the Tazara junction, resulting in heavy traffic jams every which way.
Hence the need for the flyover, whose foundation stone was laid by President John Magufuli in April 2016.
Tanzania National Roads Agency (Tanroads) is hopeful that the $45 million project being implemented by Japan's Sumitomo Mitsui Construction Ltd will be ready before its scheduled completion date in October. This is considering the contractor's near-phenomenal implementation rate.
That is good news for Dar es Salaam residents and international travellers who are affected by congestion to and from the country's leading international airport.
The Tazara intersection project is important in decongesting Dar es Salaam, the gateway to the central transport corridor and a handful of landlocked countries in the region.
Traffic jams were among concerns raised in the 2016 International Visitors Exit Survey Report published last year.
The four-lane flyover will definitely reduce travelling time between JNIA and the city centre and, with such a rapid rate of construction in place, the challenge should end soon.
Indeed, the construction speed is commendable, and should be emulated in the construction of the proposed Ubungo interchange project in Kinondoni District, as well as other development projects countrywide.
If nothing else, the Tazara flyover construction demonstrates that timely implementation of development projects is not far-fetched.