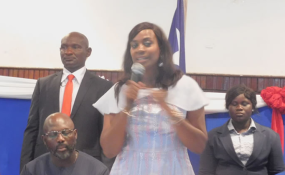 Photo: FrontPage Africa
Monrovia — Liberia's First Lady, Mrs. Clar Marie Weah visited the Amazing Grace Orphanage home in 72nd Paynesville City on February 7, 2018 and lauded Pastor Edward Diggs, Director of the facility for the level of selflessness aimed at addressing the welfare and well-being of the needy.
According to an Executive Mansion release, Mrs. Weah made the visit in the 72nd Community to acquaint herself with the needs of the Orphanage.
First Lady Weah said she was happy to visit the Orphanage in order to understand some of the challenges faced. Mrs. Weah shook hands with the children and shared sweets with them.
She pledged to do everything possible to help the Amazing Grace Orphanage and other Orphanages across the country.
"I will do my best to see what I can do for the orphans because my job is to take care of every one of you," she noted.
Mrs. Weah also toured the dormitory, classrooms, and the kitchen where meals are prepared for the orphans. She further told Pastor Diggs that she was also interested in listening and understanding their problems.
Earlier, the Director of Amazing Grace Orphanage, Pastor Edward Diggs welcomed Mrs. Weah and informed the First Lady that the facility has a population of about 46 orphans; 22 girls and 24 boys.
He said the facility is accredited by the Government of Liberia as one of the 58 Orphanages in Liberia, 27 of which are registered in Montserrado County. Pastor Diggs said the lack of adequate support over the years was responsible for the Orphanage being in a deplorable condition.