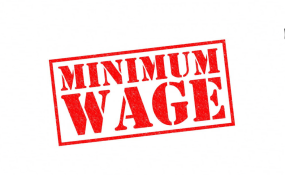 Photo: Vanguard
By Michael Oche
The Organised Labour, comprising the Nigeria Labour Congress (NLC) and Trade Union Congress (TUC), has modified its earlier demand for minimum wage and presented a new figure to the tripartite committee negotiating a new minimum wage.
Acting NLC president, Mohammed Kiri, yesterday told journalists in Abuja that the NLC and TUC had now demanded a higher figure than the earlier N56,000 which it demanded two years ago.
Kiri who was speaking at the 11th quadrennial delegates' conference of the Nigeria Civil Service Council, Federal Council, said the reason for the fresh demand was that after two years of waiting for the implementation of the N56,000, the amount is now obsolete.
When pressed further, Kiri refused to state how much has now been presented by NLC but said labour is determined to fight for improved welfare for workers. He said, "The Organised Labour, because of obvious reasons, has modified the N56, 000 minimum wage proposal to the federal government. You will recall that this figure was submitted two years ago; between then and now lots of things have changed.
"The figure was modified above N56, 000 and submitted to the tripartite committee to substitute the earlier amount. The congress would soon announce the figure to Nigerians. This was done in conjunction with TUC." On the statement credited to the Budget Office minimum as demanded by Labor was not captured in the 2018 Budget. Kiri said
"Who made the budget. I believe if they are serious, this matter can end by middle of this year. This is because by June/July the different committees would complete their work and forward to the president, who would then send it to the National Assembly for assent to become law." According to him, government must implement the new minimum wage. "What I know is that whether it is captured or not, once it is agreed, government must implement it," he said.
According to the labour leader, the committee must speed up its effort as workers are running out patience on the new wage. On whether the new figure presented will bring about delay in the process, the deputy president of the congress said it would not as the tripartite committee had not gone far in their work. "We had an inaugural meeting and since then nothing has been done. We don't want to see it as a deliberate delay to buy time, but somehow it looks as if the delay is deliberate "The committee has not started anything, so modifying a figure will not cause any delay since discussion has not commenced," he said. Also speaking, acting chairman of the NSCU,