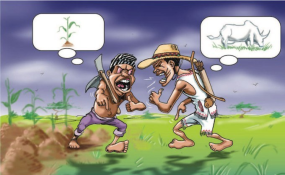 Photo: This Day
By Isiaka Wakili
Catholic Bishops have told President Muhammadu Buhari his goodwill is fast depleting, citing his administration's "glaring failures," charges the president denied.
Archbishop of Jos, Dr. Ignatius Kaigama, stated this when he led a team of Catholic Bishops on a visit to Buhari at the Presidential Villa yesterday.
Kaigama, who is the President, Catholic Bishops Conference of Nigeria (CBCN) in an address distributed to reporters later, said they would be failing in their duty as spiritual fathers if they failed to tell the president the truth.
"There is no doubt that when you came into office, you had an enormous amount of the goodwill of Nigerians, since many saw you as a person of integrity who would be able to bring sanity into a system that was nearly crippled by endemic corruption.
"Nearly three years later, however one has the feeling that this goodwill is being fast depleted by some glaring failures of government which we have the moral responsibility to bring to your notice, else we would be failing in our duty as spiritual fathers and leaders," he said.
The cleric said there was too much suffering and violence in the country.
"There is a feeling of hopelessness across the country. Our youths are restive and many of them have taken to hard drugs, cultism and other forms of violent crime, while many have become victims of human trafficking. The nation is nervous," he said.
He expressed concern over attacks by suspected herdsmen in various parts of the country.
He said violent attacks by unscrupulous persons, among whom are "terrorists masquerading as herdsmen, have led to a near civil war situation in many parts of the country."
He said they were saddened that lives were being wasted and property, worth billions of Naira, including places of worship, schools, hospitals and business enterprises are torched and turned to ashes.
He said they were more saddened by the recent massacre of unarmed citizens by these terrorists in some communities in Benue, Adamawa, Kaduna and Taraba States which, he noted, had caused national shock, grief and outcry.
He said the silence of the federal government in the wake of these horrifying attacks was, to say the least, shocking.
Kaigama urged the government to take very seriously its primary responsibility of protecting the lives and property of its citizens and ensure that such mindless killings do reoccur.
"Herdsmen may be under pressure to save their livestock and economy but this is never to be done at the expense of other people's lives and means of livelihood."
He said they were in support of the view by other well-meaning Nigerians that a better alternative to open grazing should be sought rather than introduce cattle colonies.
He also stated that "daredevil kidnappers, who at present are having a field day, with a feeling of invincibility, must be made to understand that there is a government in this country.
The bishops also faulted the federal government's appointments and distribution of amenities as imbalanced and urged the president to ensure there are no predominance of persons from a few states or from a few ethnic or other sectional groups in government agencies
I'm not folding my arms - Buhari
President Muhammadu Buhari yesterday said the impression that he was folding his arms over the recent violence in some states was dishonest.
In a statement issued after the meeting presidential spokesman, Mr Femi Adesina, said Buhari condemned the killings, adding security operatives would ensure prosecution of perpetrators and all those found with illegal arms in the affected areas.
"The impression created that I was sitting in an air-conditioned office and home, enjoying myself while these things happened, is dishonest.
"At every step, I have tried to foresee these problems because I have the experience as a former military officer who commanded three out of the four divisions of the Nigerian army, in Lagos, Ibadan and Jos.
"I am quite aware of the problems we have and I am doing my best to get law enforcement agencies to be on alert," the president said.
He explained that the policy proposed by Federal Government in response to the frequent clashes between herdsmen and farmers in the country was not meant to colonize any part of the country.
He said the intention of government was to create grazing locations for cattle rearers which, he said, had been misconstrued as another form of colonization.
He noted that it was a well-thought out policy of the Federal Government, conceived after wide consultations with stakeholders.
The president assured the bishops that the Federal Government would continue to explore all opportunities and support initiatives to ensure peace and stability in restive areas.
Buhari also stated that he would not be tired of recounting remarkable progress recorded in the areas of security, economy and the fight against corruption.
"We have done very well on security in the North East, when you compare what the condition was before we came in and what it is now.
"On the economy, particularly agriculture, I am very pleased that God answered the prayers of Nigerians who prayed for bountiful harvest.
"People have taken advantage of Federal Government policies and programmes to return to the farm and they have not regretted," he said.
On the fight against corruption, the President reiterated that government would be guided by the law in the investigation and prosecution of all graft-related cases.
"People are being prosecuted systematically with evidence. If a permanent secretary has five houses in Abuja, two in Kaduna and one in Borno and Sokoto and he can't account for the properties and there are bank transactions linking him to the properties, the prosecuting agencies will not have difficulties to make progress on the case."
On allegation of skewed appointments, President Buhari declared that no ethnic group or political zone had been deliberately marginalised in the appointments made so far.
He, however, said that he would take a second look at areas in which issues have been raised when a compendium of all government appointments was submitted to him.