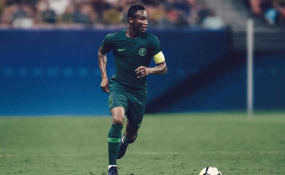 Photo: Vanguard
By Njideka Agbo
Nigeria officially has the best jerseys in the world, according to MirrorUK ratings.
Ahead of the 2018 Russia World Cup, Nike has unveiled the new jersey and a lot of people think it is all shades of beautiful.
The players obviously can't get enough of it:
The official Nigeria Super Eagles #Russia2018 #WorldCup kit film pic.twitter.com/WzdwH1eSGf
-- Collins Okinyo (@bedjosessien) February 7, 2018
A lot of Nigerians are going wild:
Since I was born and now I am getting old, I've never seen a Nigerian jersey as beautiful as this...
Biko have you seen it??? pic.twitter.com/fgzEeMgo1G
-- Elvis Tunde ⚓ (@Tunnyking) February 7, 2018
Dear @nikefootball, Thanks for the Super Eagles' jersey. It brought some great memories. With this medium, i want to plead with @FIFAWorldCup to add 1 point to every match we(Nigeria) play in the World Cup because our jersey is the best. Thanks
-- PRESIDENT OF NIGERIA (@JoshuaUbeku) February 8, 2018
Nigeria's World Cup Jersey is the best-designed article of clothing I've ever seen in my life
-- Para (@TheParacelsus) February 7, 2018
The New super eagles jersey takes me back to 1994 man
Memories. pic.twitter.com/bYMJOFVSdZ
-- Cinderella Man (@Osi_Suave) February 7, 2018
Until you realise Nigeria was not even thinking of the World Cup when they made this jersey but of the Lagos Fashion Week
-- Ç-B-Ñ (@thatcbnguy) February 8, 2018
With that Jersey, I can ctegorically say that Nigeria is winning the World Cup
-- Nduka (@Daniel_ND_) February 7, 2018
The Nigerian jersey is a beauty.
It is pure art.
21st century and African culture in a mix.
If you can't see what I see. That's on you, not me pic.twitter.com/xk04Ovy8Jm
-- Rukevwe (@MrJerryOnos) February 7, 2018
Nigerians are not the only ones happy with this new unveiling:
Sorry, we buying super eagles kit this year. https://t.co/egHIOS6lK5
-- Steph (@_sailorsteph) February 7, 2018
Ok super eagles gon be at the World Cup in the best kit race. I might need me one of them pic.twitter.com/XkHyy7DTS0
-- Caesar (@BlackCaesar86) February 7, 2018
That Nigeria jersey is good. Very good
-- James Rushton (@Jamorushton) February 7, 2018
The new Nigeria jersey - not for the hungover pic.twitter.com/fy3Z96Q0RY
-- Richie McCormåck (@RichieMcCormack) February 7, 2018
Some Nigerians beg to differ:
The Nigerian jersey is ugly. Whoever came up with that horrible old school design should be ashamed.
-- Cǟpt Ѻŀüώǟк̣̣̥ïήžӧ (@wandelakanu) February 7, 2018
The new Nigerian 2018 World Cup Jersey looks like the souls of 100 cucumbers were invoked into a trash fabric.
-- ACCRA COMMANDO (@Piyose) February 7, 2018
Meanwhile, others are concerned about the location of the unveiling:
Jersey is 🔥 no doubt. Just confused as to why the official Nigerian football shirt unveiling is done in London and not at home in Nigeria.
-- ✖️✖️ (@Mrpayo__) February 7, 2018
Although it has been rumoured that the jersey will be out in June, you can trust Nigerians:
You've gotta give it to ABA boys. By seeing the Nigerian jersey flood the internet yesterday alone, they've already started designing their version.
KWENU 🙌🏾🙌🏾🙌🏾🙌🏾
-- Taofeek Oseni (@HEAD_MASTA) February 8, 2018