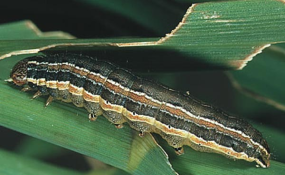 Photo: Daily Monitor
By Lovemore Zigara
The Midlands Province has lost about 20 percent of its maize crop due to the fall armyworm outbreak. Midlands Agritex provincial crop and livestock officer Mrs Medlinah Magwenzi said farmers will not realise their targets because of the fall armyworm.
"The fall armyworm has really affected the maize crop in the province. Most of the farmers who planted the maize crop have challenges to do with the fall army worm. On average about 20 percent of the maize crop has been affected meaning that it's very bad. This will have an effect of the yield which will expect will go down," she said.
Mrs Magwenzi said farmers should work with extension officers to deal with fall army worm adding that 240 fall army worm traps had been set countrywide to contain the spread of the pest.
Meanwhile, Mrs Magwenzi discouraged dryland farmers against planting maize seed saying their crop was mostly likely to fail as it will be affected by winter conditions. She said some farmers had been planting the maize seed after the heavy rains that fell in most parts of the province on Monday.
"We are discouraging farmers who might want to plant a new crop now especially following the rains that we have received now. The challenge will be that we experience the winter season and this will inhibit growth meaning that they will make a loss. So farmers should not plant unless they are in irrigation schemes," she added.
She said only maize between four and six weeks old might survive owing to the current rains. Some parts of the country have been receiving rains since last week, which has brought hope are relief to farmers after a long dry spell.