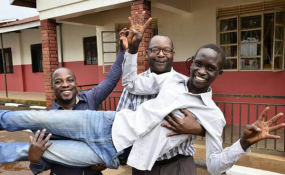 Photo: Alex Esagala/Daily Monitor
By Martins E. Ssekweyama
Wilberforce Kasozi, the Head teacher of Nyendo Mixed Secondary School in Masaka Municipality on Wednesday fled his office after receiving information that Uganda Certificate of Education (UCE) results for his students had been withheld by Uganda National Examinations Board (UNEB).
Out of the 48 students that sat for UCE exams at the centre, 30 candidates' results were withheld by UNEB which shocked the head teacher, leading to his disappearance from the school.
When this reporter visited the school, Mr Kasozi alongside his Director of Studies had locked themselves in the Head Teacher's office trying to check for the students' results via SMS platforms but they were not forthcoming.
Mr Kasozi was shocked to learn that his candidates' results had been withheld by UNEB over unknown reasons. He instantly begun trembling and sweating profusely. The visibly-frightened head teacher could not collect himself to attend to members of the press that asked him about the incident. He instead deserted his office and eventually fled the school.
Mr Noordeen Ssenyomo, the school principal tried to find Mr Kasozi in vain. All phone calls made to his known telephone numbers went unanswered.
Mr Ssenyomo denied having any knowledge of what could have led to the withholding of their results, saying he needed time to consult the concerned school administrators about the incident.
"I had not received any information to that effect and neither has the head teacher told me about any irregularities or problems that occurred during the examination exercise," he noted.
The other affected schools in Masaka District is Nserester Senior Secondary School also located in Nyendo-Ssenyange Division, where results for the entire centre of 77 students were not released by UNEB.
But Ms Madinah Bananuka Twinomugisha, the school head teacher denied involvement in any form of examination malpractice arguing that UNEB could have withheld their results because of the outstanding debt the centre owes the board.
Bananuka claims that when she took over management of the school about two years ago, she inherited a huge debt which could have caused the problem. She, however, argues that they are working out modalities of clearing the debt. "They [UNEB] had actually blocked us from registering over an accumulated debt of Shs 5.62m, but we cleared half and signed a commitment agreement of clearing the whole debt which we haven't completed yet, " she explained, revealing that they currently owe UNEB Shs 1.62m.
She is optimistic that the examinations board will release their candidates' results, saying they are going to reach out to UNEB and reaffirm their commitment of clearing the debt.
By Wednesday evening, none of the affected candidates or their parents had showed up at the schools to know the fate of their results.
While releasing the 2017 UCE results, the UNEB Executive Secretary Dan Odongo indicated that they had withheld results of 4,525 students over various reasons the board is still examining.
UNEB says out of the 320,119 candidates who turned up for the exams, 287,350 students passed while 27,955 failed the exams.
First grade had 31,338 students, second had 53,665 and third grade had 70,797 while 131,660 passed in fourth grade. UNEB says about 27,955 got F 9.