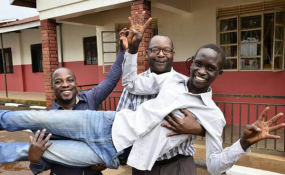 Photo: Alex Esagala/Daily Monitor
By Tom Malaba
Kampala — Special needs students continue to face challenges with the way Uganda National Examination Board (Uneb) sets examinations and grades results which affects their performance.
The Deputy Headmaster of Sir Apollo Kaggwa Secondary School, an all inclusive school Nakisunga in Mukono district, Mr Deo Waddimba told Daily Monitor, that Uneb needs to grade special needs students differently.
He also said the grades of special needs students had been affected by the way Mathematics and Entrepreneurship examinations were set.
"Blind students got a problem attempting some Mathematics questions because there is no braille for Mathematics; the braille they learn in primary is only for word making, it difficult to interpret Mathematical symbols," Mr Waddimba in a phone interview.
Blind students, according to Waddimba, cannot draw pie charts or construct angles and the way general science was set required someone to have had a practical experience which some of the special needs students lacked because they are blind.
"In Entrepreneurship there was a paper that required someone to write ledgers, draw tables and post figures which blind students cannot do by nature of their disability," he said.
Sir Apollo Kaggwa Secondary School sat five blind students, three managed to get distinctions in Christian Religious Education (CRE) and history. A
According to Mr Waddimba, the three have good arts combinations and would continue to Advanced Level but the others will be advised to pursue other courses.
The scores
According to results by Uneb from three secondary schools for the deaf, the best student scored 33 aggregates while the worst performing student scored 72 aggregates. 13 of the students who scored between 69 and 72 aggregates failed.
Last year 357 candidates sat for Uganda Certificate of Education (UCE) examinations.
According to data from Uneb, 31 blind students sat for UCE examinations last year, 82 other students had low vision and 61 students were deaf.
There were 31 dyslexics students (who lack the skill to read, spell and write) 79 physically handicapped students and another 73 students with other forms of disabilities.
Uneb executive secretary, Daniel Odongo, said yesterday they had made adequately prepared special needs students sit their examinations.
He said some questions were modified, provided questions written in braille form, provided special personnel for handicapped and dyslexics and sign language interpreters for the deaf and all special needs students were allowed an extra 45 minutes.