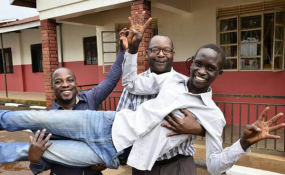 Photo: Alex Esagala/Daily Monitor
By Franklin Draku
Kampala — At least 287,350 of the 320,119 candidates who sat for the 2017 Uganda Certificate of Education (UCE) exams have qualified to join Senior Five and other post-Ordinary Level training institutions, according to the just released results.
The pass rate shows an increment, representing 91.1 per cent compared to 86.9 per cent for 2016.
The Uneb grading system indicates that a candidate qualifies to get a UCE certificate when one obtains Division One, Two, Three and Four, which is the basic pass mark.
At least 27,955 candidates failed the exams, representing 8.9 per cent, a significant decrease from 13.1 per cent for 2016, where a total of 41,632 candidates failed the examinations.
This means that such candidates may not be able to join any post-secondary institutions that consider minimum of a certificate in O-Level exams.
At the release of the results yesterday, the chairperson of Uneb, Prof Mary Okwakol, said the performance showed an improvement compared to that of 2016.
She said the percentage of candidates who passed in Division One stood at about 10 per cent, up from 7.5 per cent in 2016. "There is also a reduction in failure rates from 13 per cent in 2016 to 8.9 per cent in 2017," she said.
The Uneb executive secretary, Mr Dan Odongo Nokrach, said candidates who were awarded Divisions One and Two showed high levels of skills and knowledge in the subjects they took.
He said Division Three represents moderate levels of competence while Division Four showed minimum levels of competence.
While Uneb says any candidate obtaining Divisions One to Four has passed the exams, many schools prefer to admit mostly students with Divisions One and Two, with some stretching to Division Three, while a few, mostly rural and private secondary schools, taking in those with Division Four.
Vocational options
While previously those who failed would, by default join the vocational institutions, community colleges and teacher training institutions, the situation has since changed.
Nowadays, both primary teachers' colleges and other tertiary and vocational institutions are tightening admission for those who have made the grades. Vocational institutions are no longer seen as an option for those who have failed, but a real alternative for those who opt not to join Senior Five.
Also over the years, the Business, Technical and Vocational Education and Training has seen an upward trend in enrolment despite continued improvements in performance.
The Education ministry has also since moved to equate post-Ordinary Level qualifications of two years, a minimum requirement for most of the political positions in the country.